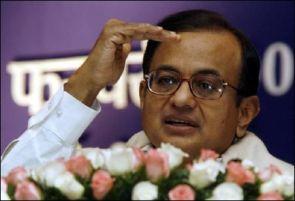 Sheela Bhatt recounts the tension, suspense and disruptions during P Chidambaram's interim budget speech in the Lok Sabha on Monday.
Union Finance Minister P Chidambaram could present the interim budget only after getting three 'MPs turned bouncers' to cover and protect him from a possible attack by protesting members of Parliament from Andhra Pradesh.
The three MPs belong to Tamil Nadu.
When Chidambaram presented the interim budget, a Congress MP, Harsha Kumar, was carrying a 'Save Andhra' placard and was standing a foot away from Prime Minister Manmohan Singh and near Speaker Meira Kumar's podium. He was also weeping. Congress President Sonia Gandhi, who saw him crying, tried to speak a few words with him. Chiranjeevi, cabinet minister and former Telugu actor, walked up to him and offered water when the finance minister was announcing the popular measure of one rank, one pension rule for the defence services.
Congress ministers and MPs from Andhra Pradesh were opposing Chidambaram's speech. An Assam MP, S K Bwiswmuthiary of the Bodoland People's Front, was shouting, demanding a separate Bodoland. When Union minister Jairam Ramesh tried to pacify him he snubbed him and shouted back. Sonia Gandhi was seen asking Parliamentary Affairs Minister Kamal Nath how much more of the speech was left. Dr Singh was sitting impassive as usual.
In the latter part of Chidambaram's speech, All Indian Anna Dravida Munnetra Kazhagam and Trinamool Congress leaders too protested by coming near the well of the house. There was suspense all the time.
Chidambaram has fixed fiscal deficit for 2013-14 at 4.6 percent of the Gross Domestic Product, and the Current Account Deficit stood at $45 billion.
He claimed that the United Progressive Alliance's biggest political issue, food inflation, has gone down from 13.6 to 6.2 percent. He says agriculture growth will be 4.6 percent, a doubtful claim. He also says the defence allocation will be up by 10 percent. Auto industry shares are already up as they have been given excise relief.
On the balance, the UPA fulfilled its formality of presenting the interim Budget and went hom,e as the Lok Sabha was then adjourned for the day.
Image: P Chidambaram enters Parliament to present his interim budget