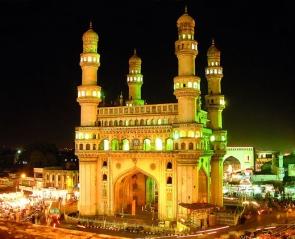 The government will stick to its decision on making Hyderabad a common capital for 10 years, but may agree to a special package for Seema-Andhra, sources tell Rediff.com's Vicky Nanjappa
With the Centre's gritty stand over the Telangana Bill in mind, Seema-Andhra ministers have decided to agree with the bifurcation of the state but only if Hyderabad is made a Union Territory for 10 years.
The Cabinet has approved the Telangana Bill according to which Hyderabad will be the common capital of Telangana and Seema-Andhra for a decade. Eventually, the city will be a part of Telangana.
Seema-Andhra ministers, who have been holding regular meetings to find a solution to the 'T problem', have decided that they will protest at the well of the House until their demands are met.
Only if the Union government agrees to the conditions will these lawmakers allow a debate and passage of the bill. Apart from making Hyderabad an UT, they will also be demanding a special package for Seema-Andhra. "The package is needed to develop our region and build a new capital," they told rediff.com.

The Union government may agree to the special package but not to the Hyderabad clause. Telangana will erupt if Hyderabad is made an UT, which will be a bigger headache for the Congress, said sources.
Telangana leaders said, "Hyerabad is the economic engine of the new state and there shall be no compromise on the same."
Meanwhile, YSR Congress President Jaganmohan Reddy is also in New Delhi as he attempts to block the T-Bill. His supporters have arrived in the capital in two packed trains to participate in protests against the new state.
Jagan held meetings with Communist Party of India-Marxist leader Prakash Karat and Bihar Chief Minister Nitish Kumar promising them support for a Third Front if they opposed the bill.
According to sources, both leaders had agreed to his demands.

Lagadapati Rajagopal, who used pepper spray in the Lok Sabha, and 16 others who have been barred from the entering the Parliament after last week's ruckus, will continue protests outside and at Andhra Bhavan.