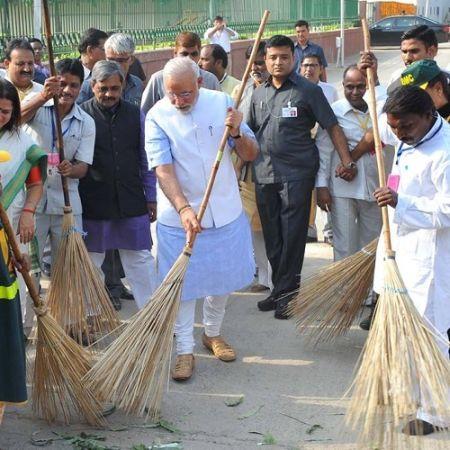 The PM will spend much of Friday outside Delhi; will devote day attending official events in Jharkhand and a political rally in Banka, Bihar
Prime Minister Narendra Modi will mark the first anniversary of the 'Swachh Bharat' or Clean India campaign on Friday by highlighting another tenet Mahatma Gandhi held dear, of promoting self-employment through cottage and small scale industries.
The anniversary will lack the fanfare with which it was launched last year. The objective was to achieve a 'clean India' by the 150th birth anniversary of the Mahatma in 2019. Modi had swept the streets at a Dalit colony in the heart of Delhi and led hundreds of school children and some eminent personalities to take the oath of a clean India on Rajpath.

In some contrast, the PM will spend much of Friday outside Delhi. After paying his tributes to the Mahatma at Rajghat and to Lal Bahadur Shastri at Vijay Ghat, he will devote the day at official events in Jharkhand and then a political rally in Banka, Bihar. In the evening, the PM will honour 'Clean India champions' at an event organised by media group India Today.
According to Bharatiya Janata Party leaders, the PM's focus on this anniversary of the Mahatma will be to distribute loans worth Rs 212 crore under the Mudra (Micro Units Development and Refinance Agency) in Dumka. "The PM will inaugurate it in Dumka, giving away loans to people to set up small and cottage industries," Chief Minister Raghubar Das said in Ranchi.

BJP national secretary Shrikant Sharma said this will be the PM's tribute to the Mahatma's ideal of serving the poorest by promoting self-employment. "Whether Gandhi or Deen Dayal Upadhyay or Ram Manohar Lohia, all of them spoke about antyodaya or serving the poorest," he said. Modi will also inaugurate distribution of free cooking gas connections to below-poverty line families.

Before Dumka, Modi will be in Khunti at 11 am to inaugurate a rooftop solar photovoltaic system for the court and district collectorate. He will then head to Banka in poll-bound Bihar to address a political rally.

In the evening, the PM will attend the 'Safaigiri Singathon 2015'. He will honour 'Clean India Champions' selected by a jury comprising India Today chairman and editor-in-chief Aroon Purie, Infosys founder N R Narayanamurthy, Sulabh International's Bindeshwar Pathak, author Chetan Bhagat and actress Vidya Balan, among others.

On Thursday, urban development minister Venkaiah Naidu issued a list of best performing states in urban areas contributing to the Clean India campaign. Naidu said the Swachh Bharat Mission was the mother of all new missions the Centre had launched. He said a drive was launched on September 25 to promote cleanliness in agricultural and grain markets, religious and tourist places, educational institutions and hospitals.

The minister said Gujarat, Madhya Pradesh, Karnataka, Chhattisgarh, Andhra Pradesh, Rajasthan and Haryana had performed well in construction of toilets. Naidu said the Centre had fixed a target of another 2.5 million household toilets in urban areas till March 2016. Construction of 1.64 mn had been taken up and 465,000 built. Construction was still to begin in Arunachal Pradesh, Nagaland, Meghalaya, Tripura and Delhi.

He said apart from the central assistance of Rs 4,000 for construction of each toilet in urban areas, 13 states are providing additional assistance, from Rs 4,000 to Rs 13,000. He said the ministry had set a target of building 100,000 toilet seats in urban areas by March 2016 and 24,233 had been built.

Solid waste management was the largest component of the mission in urban areas, he added. Complete door to door collection of municipal solid waste had been reported in 31,593 of a total 78,003 wards. The target is to achieve door to door collection in half or 39,000 wards. He said only 17.3 per cent of the 142,580 tonnes of solid waste in urban areas was being processed, against the target of 35 per cent.

BJP Rajya Sabha member Vijay Goel was criticised for putting up hoardings likening the PM and the Mahatma as "saints of Sabarmati". "This is sycophancy at its worst.
Even a self-obsessed person like Mr Modi may feel embarrassed," said Congress spokesperson Shakeel Ahmed. Goel said he wasn't comparing the two and they were "saints in their own right". "Gandhi liberated the country, Modi is liberating us from corruption, poverty…Modi is working like a saint by sacrificing his personal life for the country," he said.