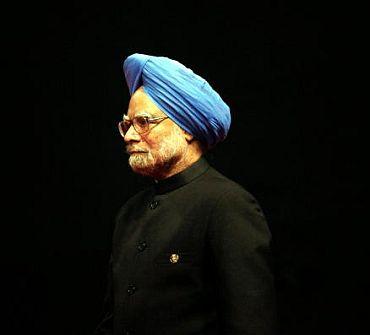 The former PM's current predicament stems from a combination of personal failing and circumstance, despite his own spotless record, says T N Ninan
Let's take two scenarios. In the first, Manmohan Singh is not the prime minister; Andimuthu Raja is. Raja signs a file approving the minutes of the meeting of a screening committee, which had met and allocated a coal mine to a public sector company. Raja meets a businessman, overturns the screening committee's decision, and sees to it that the businessman gets the coal mine.
No quid pro quo has been alleged or established. Now, when a court summons Raja, asking him to appear before it as an accused, would people march down a Lutyens avenue to express themselves in his support?
I very much doubt it. It is for the courts to judge whether such executive action violates the law on corruption or is legitimate exercise of discretionary power, but in doing so should they take into account any pre-established opinions regarding someone's reputation for honesty and integrity?
In the second scenario, a company has been promoted by a handful of major investors whose representatives sit on the board of directors. The board appoints a chief executive, but the principal shareholders have a say in who get appointed as functional directors.
Indeed, they select the people concerned, and then ask the chief executive to run the company. There are direct lines of communication from the functional directors to the principal shareholders, giving them a measure of autonomy when it comes to following the CEO's instructions.
Eventually, when one of the functional directors commits fraud and the CEO as the man responsible for the company's affairs is hauled up, is he innocent or culpable? You could blame the original promoters, of course, but they are not in the line of legal fire.
I would say the CEO put himself in an impossible situation -- because he wanted badly enough to be CEO, regardless.
At various points during his decade as prime minister, Manmohan said that he was not in the business of losing his government's majority, which meant that he would allow his government's coalition partners and their nominees in the cabinet to do as they wished. So when an arrest warrant was issued for former Union Minister Shibu Soren in 2004, provoking demands that he be sacked as minister, Dr Singh refused and called for a national debate on such issues!
Why? Because the Congress hoped to fight the Jharkhand state elections in partnership with Soren's party.
What is happening now to Manmohan is the playing out of a Greek tragedy, which the Collins dictionary describes as 'a play in which the protagonist, usually a man of importance and outstanding personal qualities, falls to disaster through the combination of a personal failing and circumstances with which he cannot deal'.
In Dr Singh's case, someone with a spotless reputation and a unique record of public service accepted one compromise after another in the interest of either a larger objective (keeping a coalition government going) or a smaller one (wanting to be prime minister). The first would be 'circumstances', the second 'personal failing'.
If he did not insist on coal auctions because Soren would have none of it, or asked the telecom regulator to ignore everything and follow (former telecom minister) Dayanidhi Maran's diktat (as Pradip Baijal has just alleged in his book, which Manmohan says he does not recall), or permitted Raja to have his way on spectrum pricing, Dr Singh was either (like Shiva) drinking the poison so that India could have a functioning government, or being Macbeth and allowing personal ambition to rule his actions.
The public's sympathy will or will not be with him, depending on whether it thinks he was drinking poison or merely fulfilling ambition. But can anyone really know which it was, or whether it was both -- as it usually was in Greek tragedy? Either way, does motive matter when it comes to the law?