At seven, Laxman Singh was one of the first children to be rescued by Kailash Satyarthi from bonded labour. Through his story, the author traces the Nobel Peace Prize awardee's campaign
Bachpan Bachao Andolan's headquarters is a nondescript three-storey building in Kalkaji, a cramped and chaotic locality of south Delhi. On the outside, nothing suggests the difference it has made to the lives of thousands of children. On a wall inside, a scoreboard reads: 83,525 children released since 1980. Laxman Singh is part of these statistics that most Indians spare little thought for. He is among the earliest children rescued from a lifetime of bonded labour by Kailash Satyarthi, the man who founded the organisation and who has just won the 2014 Nobel Peace Prize (along with Malala Yousafzai of Pakistan).
The story of Singh, a diminutive, unassuming man with a ready smile, is closely intertwined with the story of Satyarthi and his organisation. When he was rescued, Singh was seven and like hundreds of others, he worked as a bandhua mazdoor, or bonded labourer, in the stone quarries of Faridabad in Haryana, just on the outskirts of Delhi. Today, at 42, he is the treasurer of the organisation, responsible for its annual budget of around Rs 3.5 crore. He is the man signing the cheques and handling the staff salaries and field expenses of an organisation that has 11 state offices and over 80,000 volunteers across India. Life, he says, could have taken a very different course had it not been for Satyarthi. Singh belongs to Bodi, a tiny hamlet near Harpalpur town in Madhya Pradesh. He came to Delhi as a two-year-old with his parents in 1975 when a severe hailstorm destroyed the wheat crop grown on their small farm of less than an acre. They had barely landed at the Nizamuddin railway station in Delhi when they were spotted by an agent of a stone quarry contractor who took them to Faridabad.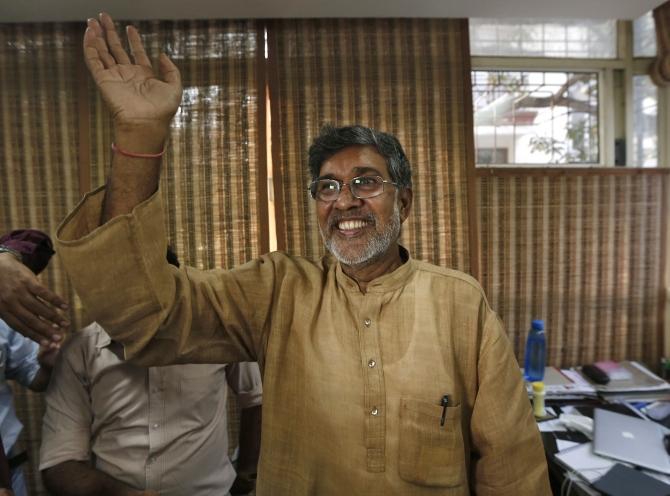 Children's right activist Kailash Satyarthi waves to the media at his office in New Delhi. Photograph: Adnan Abidi/Reuters
"The contractor gave my father about Rs 3,000 as advance wages -- and we were trapped," recalls Singh. The couple would be paid Rs 150-200 for a week's labour, which included breaking the stones and loading them on trucks. As he turned five, Singh too became a hand at the quarry, trying to break stones with a hammer in his tiny hands and filling them in baskets. From 7 in the morning to 10 at night, they worked. Food breaks were erratic and depended on the mood of the master. "Mostly, once you entered the quarry, that's where you stayed through the day," says Singh. Like the rest of the bonded labourers, they lived in a shack near the quarry and ate at a food shack nearby run by the contractor. The cost of the meal would be promptly added to the family's debt account which kept swelling. Though a doctor was stationed at the quarry in case a labourer fell ill, the cost of the treatment would also be put down against the person's name.
"They didn't bother much if children fell ill, like I did, because their absence did not affect business," says Singh. There was no communication with the world outside. They had landed in a black hole from where there seemed no escape. Around this time, they met Satyarthi, who had started rallying the bonded labourers and telling them about their rights. "He would come from Jantar Mantar by bus, travelling 30 km, with a team of 8-10 people in the dead of night.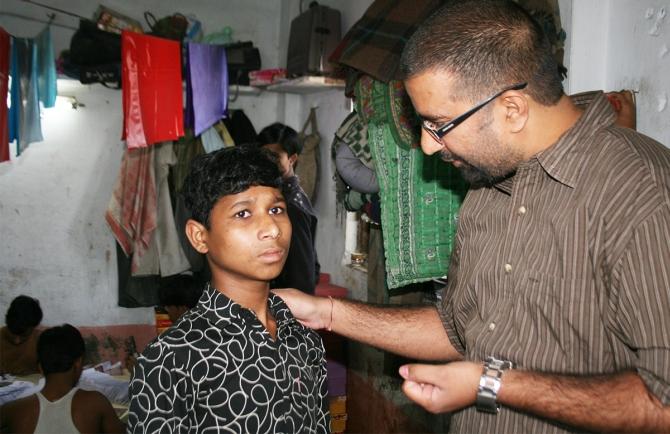 They would spread across the quarries and surreptitiously hold meetings with the workers, hidden from the contractors and their goons."
Socio-economic rehabilitation of rescued child labourers is a crucial step to ensure that a child is re-integrated into society and is not re-trafficked. Photograph courtesy: bba.org.in
Slowly, the workers got organised. They started rebelling against their oppressors. "In 1980, Kailashji formed the Stone Quarry Workers' Union. Over 20,000 labourers joined. The contractors fought back violently. A few workers, like Shaheed Dhoomdas -- that's how we remember him -- were killed." Finally, the Supreme Court intervened. "And in a night-long operation, led by Kailashji and assisted by the police, we were all rescued." By now, Singh had two younger brothers, both born at the quarry without any medical aid. But returning to the village wasn't an option for the family. There was nothing to go back to. They stayed on and continued to work at the quarry, now taken over by the government. The old contractors were removed, though the munshis remained. "We weren't scared any longer. If there was trouble, we could approach the police. If the police didn't help, Kailashji would." The document with the record of their debt to the contractor was invalidated. "I don't know where that paper is anymore. And it doesn't matter," says Singh. Satyarthi convinced Singh's parents to put him in school and got him admitted to Gurukul Indraprastha, half a kilometre from where he lived. "For the first time in my life, I was going to school," he recalls.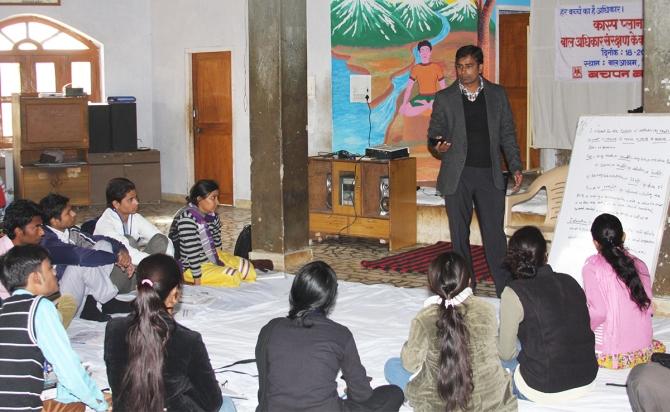 "For the first time in my life, I was going to school," he recalls. But after the first 15 days he started skipping classes since he couldn't understand the language.
Socio-economic rehabilitation of rescued child labourers is a crucial step to ensure that a child is re-integrated into society and is not re-trafficked. Photograph courtesy: bba.org.in
"I spoke Bundelkhandi; they taught in Haryanvi." It took some coaxing from his teacher and Satyarthi to get him back to studies and he completed Class X, all the while helping his parents at the quarry after school. As free workers, they now made enough to pay the nominal school fee. But Satyarthi had spotted a problem. He realised he needed to ease the children's transition from a life of intense labour to their life as a student because at the first sign of distress in school, these already traumatised children would bolt. "So, he opened 11 or 12 Mukti Ashram schools, one in each basti," says Singh. Here, children from Uttar Pradesh would be taught by a teacher from Uttar Pradesh. Those from Bihar had a teacher from Bihar. (Later, Singh would take upon himself to teach children from Madhya Pradesh).
As the schools became bigger and expensive to operate, the government acceded to take over.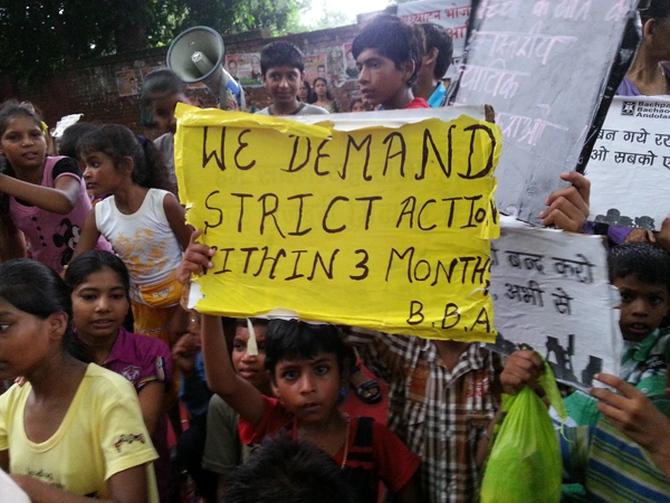 Today, they have become government schools.
A training session at the Bachpan Bachao Andolan headquarters. Photograph courtesy: bba.org.in
Singh, meanwhile, gave up studies. "My mother had developed spinal problem from lifting stones at the quarry," he says. He joined Satyarthi in his Bachpan Bachao Andolan and would go on raids to rescue child workers, mainly those employed in zari factories in Delhi. "Our field workers would identify the factory, at times posing as customers. We would then inform senior police officials -- not the beat policemen who often warned the factory owners. Then, keeping the date, time and place confidential, we would raid the factory with a police team," he says. The rescued children -- often scantily-clad, malnourished and ailing -- would be reunited with their parents, sent to their ashram or handed over to the Child Welfare Committee. "Now, we have a separate raid team," says Singh. Satyarthi's son, Bhuwan Ribhu, who was born around the time Singh was rescued, says the courts have played a critical role in Bachpan Bachao Andolan's fight for the children. The organisation has actively taken the public interest litigation route to rescue children. This Thursday too, Ribhu, a lawyer, had cases before the Supreme Court on matters of missing children and child drug abuse.
was also rescued after the court stepped in. Lobbying has been another strong weapon, particularly against child labour in the carpet industry. "Over 80 per cent of carpets made in India were exported," says R S Chaurasia, chairperson, Bachpan Bachao Andolan. The organisation succeeded in convincing several foreign consumers to boycott carpets made by units that exploited children. The result of their efforts was 'Rugmark', a certification that the carpet being sold was child-labour-free. "A lot has been achieved, but a lot needs to be done," says Chaurasia. Pointing to Singh, he says, as someone who was a bonded labourer, he is entitled to a house and back wages that are now given to rescued children. Singh smiles, says he is outdated and that certain laws came into force much after he had been rescued. From Bachpan Bachao Andolan, Singh gets a monthly salary of Rs 20,000 -- "An honorarium, enough to live a life of dignity," he says. To him, Satyarthi is like a father. "My eldest son calls him 'dada' (paternal grandfather) and carries his picture on his mobile phone," says Singh, who has three sons. The oldest is doing a B Tech (mechanical) from YMCA University, Faridabad, and the younger two are both in class XII. "They want to become chartered accountants," he says.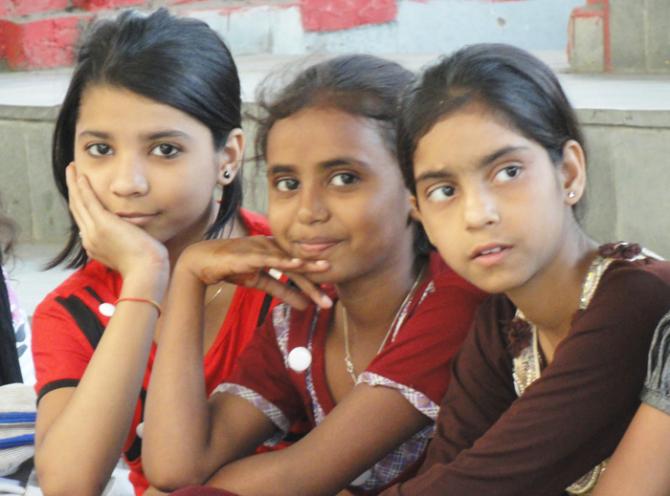 Photograph courtesy: bba.org.in
But the past also lies close by. The quarries from where he was rescued are just over a kilometre from his house in Shraddhanand Colony where he lives with his brothers and their families. His parents have returned to the village. The quarries where they slaved remain gaping water-filled death pits where there are frequent cases of drowning. Singh visits them sometimes but doesn't talk to his children much about them. "Those days," he says, "are over now. Let's look to the future."