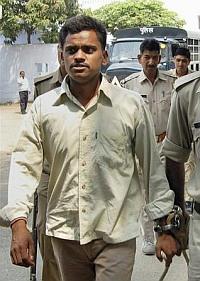 In a late night ruling, the Supreme Court on Monday stayed the execution of Nithari killings convict Surinder Koli, who was set to be hanged in Meerut jail for killing children in a house in Nithari village in Noida near Delhi in 2006.
Hearing the petition filed by senior advocate Indira Jaisingh in the light of a recent SC Constitution bench verdict, which had held that the review plea of condemned prisoners must be given an open court hearing, the bench of Justices H L Dattu and Anil R Dave stayed Koli's execution in a special bench sitting at 1.30 am.
Narrating the turn of events post midnight, Jaising later said, "... there was a call from Yug Choudhry from Mumbai saying, 'An urgent application for stay of the execution of Koli has to be moved, will you go?'. It was 12 am. I said yes."
"I talked to DG prisons (UP) who said: 'The black warrant has been issued for execution on any date between September 7 and 13; it depends on the preparedness of the jail superintendent and the magistrate'. Justice Dattu was woken up at 1 am, the staff was summoned and they presented the petition. The order of execution was stayed for one week."
In the order passed in the wee hours today, the bench said, "An application to review the order passed on July 24, in review petition (of Koli) is placed before us on September 8. In the application it is stated that execution of death warrant will take place at 5:30 am on Monday, September 8.
"For recalling and review of our order, the applicant (Koli) relies upon observation made by the Constitution Bench of the Supreme Court in the matter in which the verdict was passed on September 2," it said.
Koli was convicted for the murder of a girl Rimpa Halder who went missing in Noida in December 2006. After a police investigation, she was found to have been murdered by Koli.
During the probe, the skeletal remains of many other children were recovered from a drain adjacent to a house in Noida where Koli worked as domestic help for businessman Moninder Singh Pandher.
Both Koli and Pandher were sentenced to death, but later the Allahabad high court acquitted Pandher and upheld the death sentence of Koli.
Koli's sentence was then upheld by the Supreme Court. He filed a mercy petition before the President which was turned down.