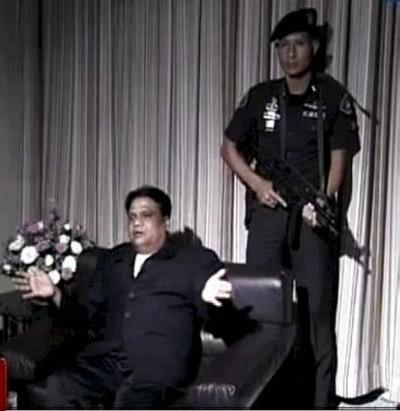 What once used to be a hut in this village in Faltan tehsil of Satara district in western Maharashtra has been replaced by a mansion, the best in the vicinity.
This is the house, now called 'Sada Laxmi', where underworld don Chhota Rajan, arrested in Bali in Indonesia, spent much of his childhood.
The bungalow, strongly fortified with stone walls and iron gates, has a sprawling well-maintained lawns.
His (Rajan's) brothers keep visiting it whenever there is a family ceremony, a villager said.
There is statue of Rajan's father Sadasiv Sakharam Nikalje, who in the '50s moved to Mumbai to eke out a living.
"He was a good lad who frequented my shop," a shopkeeper said, recalling the "slightly built kid" who used to visit his shop during holidays.
Rajan, who was born in Mumbai, always visited Girvi village during summer and Diwali holidays, the villager said.
"After gaining notoriety in Mumbai underworld, Rajan stopped coming to the village. However, his wife and brothers keep coming whenever there is a function in the family," another villager said.
Rajan's trips to his native village ended after the death of his father in 1976, the villager said.
"Agreed that he has indulged in criminal activities, but the fact remains that the stance taken by him against Dawood Ibrahim over the 1993 Mumbai serial blasts has been appreciated by all the villagers," he said.
Rajan, one of India's most wanted criminals and on the run for nearly two decades, was arrested in Bali by Indonesian police acting on a Red Corner Notice issued by Interpol.
The arrest was made on a tip off from Australian police that 55-year-old Rajendra Sadashiv Nikalje alias Mohan Kumar alias Chota Rajan, the powerful aide-turned-rival of terrorist Dawood Ibrahim, flew from Sydney to Indonesia's popular tourist destination Bali, where he was arrested on Sunday.
Rajan grew up in Mumbai's lower middle class locality of Tilaknagar. He began by selling film tickets in the black market at the local Sahakar Cinema. He subsequently joined Rajan Nair, also known as Bada Rajan, and reportedly engaged in small robberies and bootlegging. He learnt the tricks from Bada Rajan and became a confidante.
After Bada Rajan was killed, Chhota Rajan took the reins, also coming into contact with leading dons Dawood Ibrahim and Arun Gawli. The trio worked together, say police. However, the murder of Gawli's brother created a rift and they parted ways.
Rajan's association with Dawood continued when the gang war in the city was at its peak during the 1980s. He is still wanted in a number of charges relating to extortion, murder, smuggling, drug trafficking and film finance. There are 17 cases of murder and a large number of attempted murder charges.
He shifted to Dubai in 1988 and apparently worked in association with Dawood. After the March 1993 serial bombing in Mumbai, the latter's handiwork, Rajan clarified he was not party to this. He separated from Dawood in 1996 and started working independently, from various countries.
Rivalry between the two has since grown and both carried out murders of the other's gang members, in and outside India.
They are also said to have targeted each other on several occasions. Rajan came into the limelight when he allegedly killed Dawood's close aide, Sharad Shetty, in Dubai in 2003. Shetty was reportedly Dawood's money laundering agent.
Again, in June 2011, Rajan hogged the headlines after the Mumbai police arrested seven persons, including two shooters from his gang, in connection with the murder of city journalist J Dey. Rajan had kept the identity of the target a secret, say police, but had given a description of the victim and his motorcycle number a week before the killing.
Police sources hint that a tip from Dawood might have led to Rajan's arrest. So, the rivalry between the two might further increase in the days to come.