Syed Firdaus Ashraf/Rediff.com traces how the beating up of a man in Ghaziabad went from alleged communal attack to reported regular crime in a matter of days.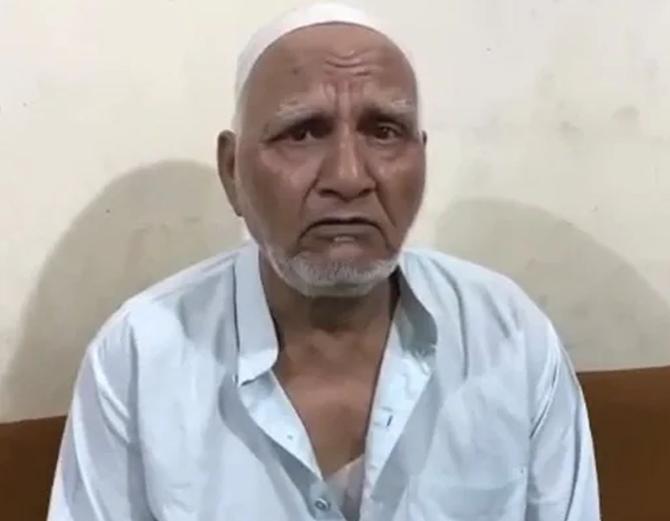 On June 5, 2021, Abdul Samad Saifi, a 72-year-old man from Bulandshahar, Uttar Pradesh, traveled to Parvesh Gujjar's home in Loni in Ghaziabad, also in UP, to deliver a taveez (amulet).
After Samad arrived, he was reportedly beaten up by Parvesh and some other men. The incident was shot on video which showed that the men also shaved off Samad's beard forcefully.
Samad, in another video, claimed that apart from cutting off his beard, Parvesh and his associates made him chant, 'Jai Shri Ram'.
The local police filed an FIR in the matter naming Parvesh and his associates.
A controversy erupted after Mohammed Zubair, a journalist who works for the fact-checking Web site Alt News, tweeted the video after which it went viral, with many -- including journalists Rana Ayyub, Saba Naqvi and Congress leaders like Dr Shama Mohamed -- tweeting about it.
Then came a major twist in the case.
In the first video in which the elderly man was being beaten up, one cannot hear chants of 'Jai Shri Ram' either by the accused Parvesh Gujjar or the victim as the video was in mute mode.
When the Ghaziabad police registered a case, they discovered that besides Parvesh in the video, two other men named Kallu Gujjar and Aadil -- a Muslim -- joined Parvesh in beating up Samad.
The police also found that while Samad's beard was indeed cut, there was neither any communal angle to the incident nor any slogans of 'Jai Shri Ram' raised.
In a statement to the media, Iraj Raja, superintendent of police, Ghaziabad (rural), said, 'Abdul Samad came from Bulandshahar to Loni village where he met Parvesh Gujjar and other boys. He knew these boys because he used to make amulets for them.'
'There was some argument among them and he was beaten up by them. We have arrested the main accused, Parvesh, and two other boys, Kallu Gujjar and Aadil. Other boys too have been identified and we will trace them too.'
In another twist, Aadil's brother Mohammad Sajid, in an interview (external link) to Maktoob Media, claimed, 'My brother and his friends received a call informing them that Samad was being assaulted by Parvesh Gujjar and others. They rushed to the scene to rescue him.'
When this correspondent contacted SP Iraj Raja to ask about the case, he stated that he had already said whatever he had to say and asked me to contact Amit Pathak, senior SP, Ghaziabad.
One of Pathak's assistants, who said he was the PRO of the Ghaziabad police, responded that whatever the Ghaziabad police had to say in the matter, it has been posted on its Twitter account (external link).
Faced with the facts of the case, journalist Zubair retracted his tweet on the incident.
'I've deleted the videos that I had posted. The victim's version of him being forced to chant "Jai Shri Ram" at this point in time do not seem to add up based on my conversations with police authorities and other journalists reporting on this issue,' Zubair tweeted (external link) on Tuesday night
On Wednesday, June 16, morning the Ghaziabad police filed an FIR against nine entities including Twitter, The Wire, Rana Ayyub, Zubair, Saba Naqvi and Shama Mohamed. Journalists Saba Naqvi and Rana Ayyub either tweeted the video or posted newspaper article links to the incident.
'FIR registered against 9, including Twitter and some journalists, in connection with the incident in Loni where a man was thrashed & his beard was chopped off. No communal angle to incident,' the police said. 'Twitter has done nothing to stop the video from going viral.'
Dr Shama Mohamed, national spokesperson, Indian National Congress, reacting to the FIR against her, said, 'Nobody can do violence in the name of Lord Ram. I have not done anything wrong. Let the police do the investigation and the truth will come out.
'It seems the Ghaziabad police is investigating the case of the elderly Muslim man and has put forward a different version. My comment on Twitter was based on a newspaper report. I will wait for the investigation to be completed before further comment,' Saba Naqvi tweeted.
'What happened in UP was illustrative of Twitter's arbitrariness in fighting fake news,' IT Minister Ravi Shankar Prasad tweeted.
'While Twitter has been over enthusiastic about its fact checking mechanism, its failure to act in multiple cases like UP is perplexing & indicates its inconsistency in fighting misinformation,' Prasad posted on Twitter.