Political skirmishes erupt over Chhattisgarh's decision to permit babus to attend RSS camps.
A Ganesh Nadar/Rediff.com reports.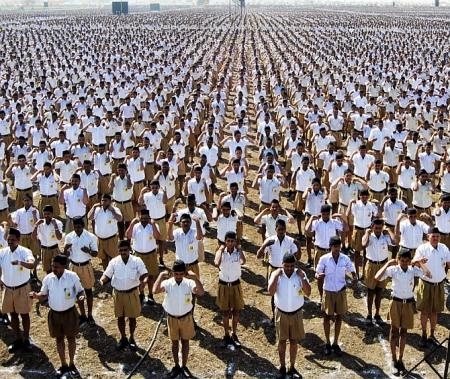 A Chhattisgarh government notification permitting government employees to attend Rashtriya Swayamsevak Sangh camps has triggered a storm in the state with one Congress legislator dubbing it a 'Talibanisation' of the administration.
The Dr Raman Singh-led Bharatiya Janata Party government is reported to have revoked an earlier ban on attending RSS camps. Ironically, the restriction on participating in political activity is still in force in Chhattisgarh.
The Opposition Congress party raised the issue in the state assembly and staged a walk out.

Congress legislator Amit Jogi, who led the protest in the state assembly, tells Rediff.com: "Central service rules clearly state that the RSS and Jamaat-e-Islami are both deemed political organisations. Prime Minister Narendra Modi and then prime minister Atal Bihari Vajpayee did not overrule that. Then how can the state government go against that?"
"They are calling it (the RSS) a cultural organisation. It does not deal with either art or drama. They allow political work. This goes against the Constitution and against Election Commission conduct rules," says Jogi.

"Government officials should be impartial. How can an Election Commission officer who attends RSS camps be impartial? Next year, there are elections in Bihar. These officials will be deputed there. They will be partial," the MLA adds.
"It is unfortunate that Raman Singh has allowed this practice. The bureaucracy should be neutral, separate from politics. Here, they are making them part of the political process," says Jogi.
Asked if the Chhattisgarh administration is 'saffronised,' Jogi said: "I won't call it 'saffronisation'. I am calling it 'Talibanisation' of the government when officials who are supposed to be neutral become partial to an ideology -- one that rejects all other ideologies."
But the BJP denies any knowledge of such a notification being issued.
"Bureaucrats will not support any political party. The RSS is not a political organisation," state BJP President Dharam Lal Kaushik tells Rediff.com "We are on a membership drive for the BJP. We have not asked any government servant to join us."

Another Congress legislator Satyanarayan Sharma insists the Raman Singh government has issued such a notification.

"Now they (the state government) are helping the RSS by saying it is not a political party," says Sharma, insisting that public servants have been attending RSS camps.
"I am unaware of what is in government or government servants' minds," says state RSS Sanchalak Dr Purnendu Saxena. "We are doing everything for the nation's good. All are welcome here. Only nationalists join the RSS. Everyone who feels for the nation can join us."

The Congress party now intends to take the issue to the streets and, if needed, take the Raman Singh government to court.