He came to power with a huge mandate in 2012, but Uttar Pradesh Chief Minister Akhilesh Yadav has now forfeited the voters' trust, says Rediff.com contributor Sharat Pradhan.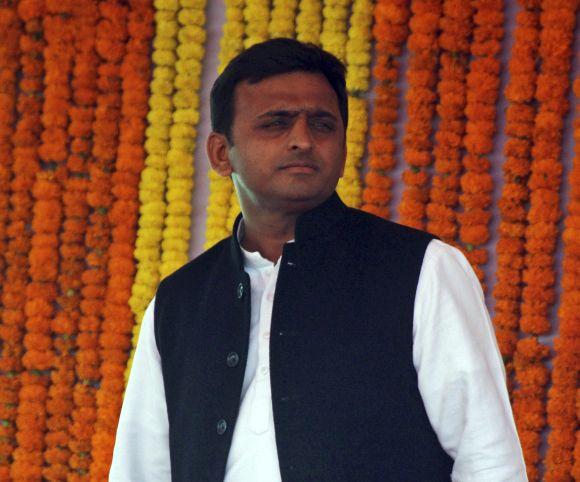 He was seen as a man determined to take a 'Bimaru' (sick) state out of the woods, but 27 months after Akhilesh Yadav was sworn in as chief minister of Uttar Pradesh, his report card is woeful.
His two years in office has belied the expectations of voters who catapulted his party with 224 seats in the 403 member UP assembly.
Akhilesh took off on a positive note -- fulfilling election promises like giving away laptops, unemployment allowance and other freebies like Vidya Kanyadhan to young girls. But he failed to provide good governance.
His peers made him believe early on that other than these doles to voters the only thing that mattered was the Samajwadi Party's caste and creed configuration.
The poor condition of UP's infrastructure, roads, drinking water worsened despite heavy budgetary allocations, while the power situation dipped to an all time low.
Aggravating Akhilesh's troubles were an overbearing army of uncles holding key positions in the government and his fidgety father, Samajwadi Party supremo Mulayam Singh Yadav. What began as a crude joke -- UP has five-and-a-half chief ministers, of which Akhilesh is the half -- soon gained ground.
Deviating from his predecessor Mayawati's legacy of making herself inaccessible, Akhilesh restarted the chief minister's 'Janata Durbar' where thousands converged from different corners of the state.
He showed the first sign of weakness when he allowed himself to be misguided by his coterie of bureaucrats who dissuaded him from holding these meetings. The ritual, which was widely welcomed by the man on the street, was initially reduced from five times a week to four and shortly thereafter to once a week. It was eventually reduced to once a month.
A bureaucrat close to Akhilesh was once heard telling him that the 'Janata Durbars' made no sense, as people came with too many expectations that could not be fulfilled.
The chief minister began to pay less attention to issues of governance and spent more time with friends and sycophants. Even bureaucrats working closely with him began to feel there was a serious deficiency of attention.
Akhilesh soon lost his 'iqbal' (aura). Each time he reversed his orders on key issues -- be it allowing MLAs to buy SUVs from their constituency fund, or closing malls at 6 pm to conserve electricity -- his partymen hailed him for showing courage to review his own decisions. Little did they realise that the chief minister's backtracking showed him in poor light.
Criticism became taboo and filtered information became the order of the day. Oblivious to harsh realities, father and son went to the hustings with an air of overconfidence that was shaken on May 16 when the Samajwadi Party was reduced from 23 to a paltry 4 seats in the Lok Sabha.
Other than four members of the ruling Yadav clan -- Mulayam Singh (who won from two constituencies), daughter-in-law Dimple Yadav and nephews Dharmendra Yadav and Akshay Yadav -- all the Samajwadi Party candidates were vanquished by the Bharatiya Janata Party.
Akhilesh Yadav's failure to look beyond caste and religion, which led him to entrust a bulk of the state's police stations to members of his Yadav caste, allowed the precipitation of a deep crisis in the form of last year's Muzaffarnagar riots that left 62 people dead.
Even after last month's brutal gang-rape and murders in Katra village in Badaun district his advisors did not consider it necessary for the chief minister to visit the village. Instead of reprimanding Akhilesh for his insensitive remark 'Aap to safe hain; phir ja kar prachar karo kitna acha kaam hoi raha hain yahan (You are safe, so tell the world that good work is happening here)', his uncle and the party's most important general secretary Ram Gopal Yadav blamed the media as perpetrator of rapes.
Ram Gopal Yadav also claimed that 'Often men were accused of rape for parting ways in a live-in or love affair.'
Mulayam Singh Yadav had earlier expressed his outrageous view on rape, when he tried to dismiss the heinous crime as a typical boyish 'mistake.'
Notwithstanding the Samajwadi Party government's assertions that prompt action was taken against the rapists-murderers, the comments by father, son and uncle are a clear indication of the party and state government leadership being in denial.
While Akhilesh did not care to visit the Badaun village, his cousin -- local MP Dharmendra Yadav -- visited the village only three days after the incident.
Samajwadi Party insiders feel the chief minister should have taken the 60 minute helicopter ride to Badaun.
Image: Uttar Pradesh Chief Minister Akhilesh Yadav. Photograph:Pawan Kumar/Reuters