The pilot's decision and professional competence in bringing flight AI 144 safely back to Newark Liberty International Airport after an engine fire, saved the lives of 300 passengers and 15 crew members. George Joseph/Rediff.com reports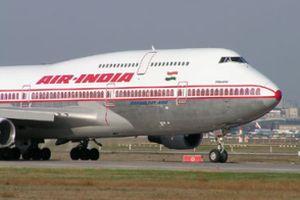 Air India flight AI 144, which was forced to return to Newark Liberty International Airport in New Jersey on July 13 after an engine on the Boeing 777 caught fire, resumed flying on July 18.
It was a providential escape for the 300 passengers and 15 crew members, thanks to the heroic efforts of the pilots and the crew.
Port Authority of New York and New Jersey spokeswoman Erica Dumas said the flight departed for Mumbai around 4.24 pm. When it was about 100 feet above the ground, the Air Traffic Controller sounded an alert that there were flames coming out of the left engine.
The pilot reduced thrust to idle on that engine and took a decision to return to the airport. Shortly before landing, the left engine flamed out. The plane circled over Newark on a single engine and overweight, before landing safely. No one was hurt.
The crew declined to speak to Rediff.com, but Second Commander Captain Niranjan Singh said he felt the hands of God leading all to safety.
Riwo Norbhu, head of Air India operations in New York and a pilot with Air India and the Indian Air Force with over 40 years of experience, hailed AI 144 pilots.
Norbhu said the plane could have flown for hours even if it happened midway. Since it happened here, it was easy to take care of the passengers who were moved to hotels. They were flown to India in two days on different flights.
"In such an emergency, the pilots first think of making the aircraft light, which is done by dumping the extra fuel," Norbhu explained in an e-mail that was made available to Rediff.com.
"To do this, pilots need to climb up to a designated minimum height and dump the fuel in areas already specified by the local airport authorities. The time to reach the dumping height and area could have taken 15 to 30 minutes, because of heavy weight and loss of an engine."
"The actual fuel dump can take another 30 to 40 minutes, depending on the amount of fuel to be dumped out. The exercise of dumping fuel to lighten the aircraft would have taken any thing around 60 to 70 minutes, a valuable time they did not have."
The pilots, Norbhu continued, "Had to take an instant decision, which they rightfully took -- to land as soon as possible, rather than use up precious time to try and dump fuel."
The landing was not easy, he wrote. "The handling skills and good cool airmanship displayed by the pilots was the primary reason of this emergency being converted into just an incident, which the Indian media thought was of no consequence of being reported or being commented upon. They were not interested in how a major catastrophe was averted and lives of 315 persons were saved by the good professional handling and competent decisions of Air India pilots."
"My congratulations to Captain Gautam Verma and his crew (Second Commander Captain Niranjan Singh and First Officers Captain Pankaj Wadhawan and Captain Shilpika Das) for displaying airmanship and professional competence of the highest order in handling a most difficult situation competently and successfully," Norbhu said.