Hours after Bharatiya Janata Party MP Kirti Azad's twitter posts crossed the limits of propriety when he seemed to address Finance Minister Arun Jaitley as a napunsak (eunuch), the cricketer-turned-politician denied making the statement and revealed that his profile had been hacked.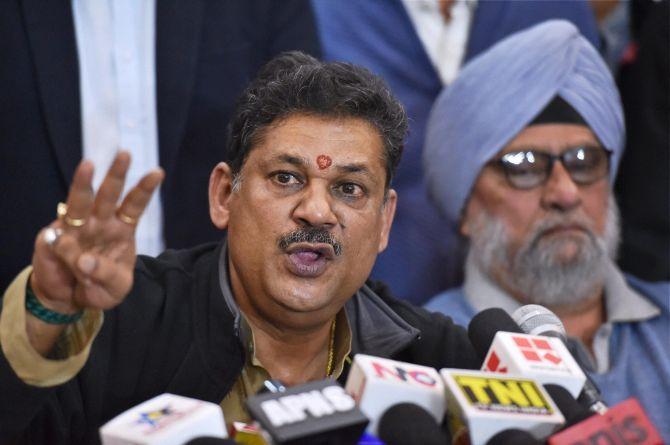 The tweet appeared to indicate that Azad was not afraid of threats to his life for challenging the finance minister.
It was a virtual dare to his party to act against him after he went public with allegations of corruption on Jaitley's watch as chief of the DDCA.
"I was visited at home by so many agencies to take precaution against threat to my life. Dear @arunjaitley darta nahin hoon napunsako se," the tweet, which was on his account timeline at the time of filing of this report, said.
Azad's posts created a flutter as it came just hours after he dared Jaitley to lodge defamation cases against him over the alleged corruption in the Delhi and District Cricket Association.
In his earlier posts, Azad said: "hello dear @arunjaitley ham par defamation file kar rahe ho na? Please karo na Don't take injunction, don't gag freedom of speech. (hello dear @arunjaitley, hope you are filing a defamation case on me as well. Please do so. Don't take injunction, don't gag freedom of speech)"
"Mera naam kyon hata diya @arunjaitley #Aap ne toh mere letters dikhae theey, mujhpar karo na case, registered post se maine bheje theey. . (Why did you remove my name? You saw my letters; file a case against me as well... I had sent the letters via registered post)" he added.
Whether the party buys Azad's claim that his account was hacked remains to be seen.
On Monday, BJP chief Amit Shah had issued a statement in support of Jaitley, describing the allegations against him as "baseless and far from truth".
"This is a conspiracy to defame Jaitley... BJP stands united with him and will not let any conspiracy to defame him succeed," he said.
"Jaitley's entire public life is like an open book and dedicated to the country and levelling such allegations against him are beyond comprehension as the SFIO (Serious Fraud Investigation Office) had already ruled out his involvement in day-to-day functioning of the DDCA," he said.
"The AAP constituted an inquiry panel to probe the alleged DDCA controversy and has called a special session of the assembly on Tuesday on this issue. How the DDCA comes under the purview of such an inquiry is in itself a legal matter. The AAP has undertaken this exercise to divert attention from the criminal cases filed against its leaders by Jaitley," Shah said.
Last heard, the BJP is set to suspend Azad.