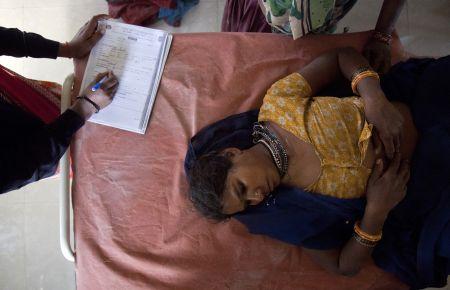 A sweeper in a government-run hospital in Odisha's Jagatsinghpur district had to stitch on a woman who delivered a baby as the doctor had left the operation theatre.
The incident took place at a community health centre in Kujang in nearby Jagatsinghpur district on Friday.
The sweeper had to carry out post delivery stitching on the woman as the doctor attending her left operation theatre in order to attend another patient, a preliminary report received by the chief district medical officer, Jagatsinghpur, said.
"The woman had a normal delivery. Therefore there was not much stitching work to be done on her. Obstetrics and Gynaecology surgeon Pramod Kumar Nayak had left the OT before the stitching. The sweeper with help of other para-medical staff conducted the stitching," CDMO, Jagainghpur, Binod Behari Mohapatra told PTI quoting the preliminary report.
Earlier, the CDMO had sought a report from the medical officer of the community health centre, Kujang after getting complaint from the relatives of the woman.
The CDMO said the woman was safe. "The stitching done on the operated part of the body was medically examined, and it was found to be all right," said medical officer of the health centre Prasanna Kumar Panda.
Jagatsinghpur MP Kulamani Samal, who is a doctor by profession, said, "On being informed about the incident, I paid a visit to the hospital. I talked to the patient and hospital staff members. I am of the view that the allegations that a sweeper has conducted the stitching are true. This is indeed an unfortunate occurrence. The doctor, who skipped the duty, needs to be taken to task."
The CDMO said "action will be taken against the concerned doctor after inquiry."
Last year, Odisha was in news for a doctor used a bicycle pump to push air into the abdomen of women undergoing tubectomy operation at a hospital in Angul district in November 2014.

Image: Representation picture