A 12-year-old girl has incurred the wrath of many after posting photos of herself hunting giraffes and zebras, sparking outrage online.
Aryanna Gourdin and her dad Eli travelled from Utah in the US to South Africa specifically to hunt big game.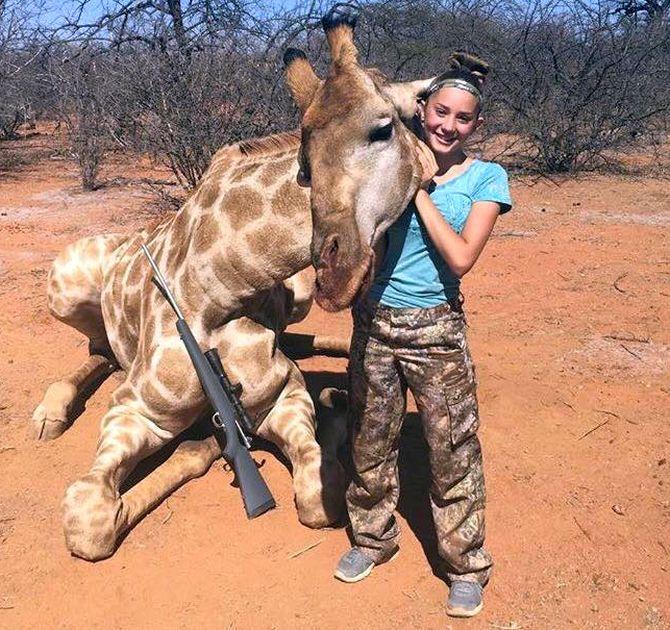 IMAGE: Aryanna Gourdin posted the image of the dead giraffe with the caption 'One of my dream hunts for sure'. Photograph: Aryanna Gourdin/Facebook
While there, she posted a photo on Facebook of herself posing next to a dead zebra with a pink quiver and set of arrows. 'One of my dream hunts for sure,' she wrote.
Unsurprisingly, the photos sparked a massive backlash. One had more than 73,000 comments, with people calling her 'sick' and an 'animal hater'.

"Hope you grow up soon and see that these animals are innocent victim of unfair brutality," one person wrote. "You are not a real hunter, you are hunting for sport that is murder."
One even suggested that young girl deserved to die.
"A normal dad would take his daughter to Africa for a safari and not for hunting animal, for fun!!!!!!" the commenter wrote.
"That's so poor. I hope that one day while she is hunting animals, just for fun, she will be killed by one of them!"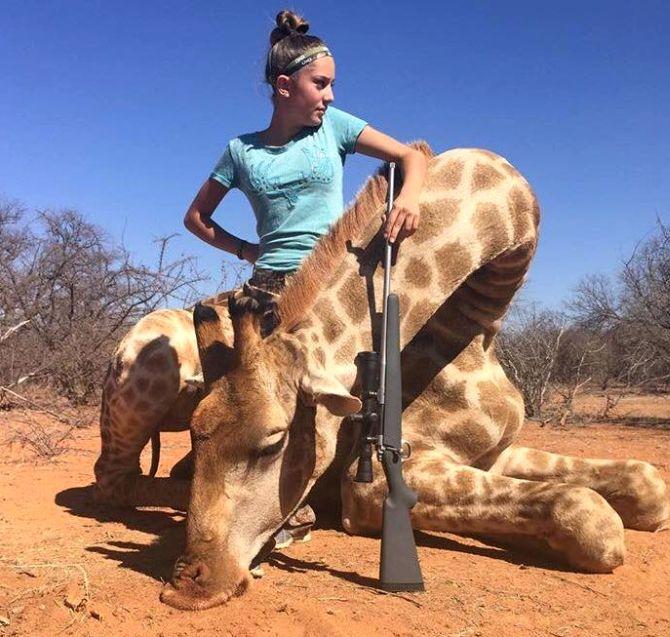 IMAGE: The 12-year-old and her dad travelled from Utah in the US to South Africa for the hunting expedition. Photograph: Aryanna Gourdin/Facebook
Aryanna posted a lengthy defence of trophy hunting, claiming that the activity is justified because the high prices people pay to kill the animals is donated to conservation efforts.
"Although there are flaws in the current system, (poachers posing as ethical hunters for example), trophy hunting remains the only effective way to obtain money for conservation efforts," she wrote.
However, few were convinced.
The 12-year-old later posted another photo, of herself posing with a dead giraffe, captioned: 'My last profile picture was very offensive to others and I have learned my lesson with that pose, I apologise.'
The practice of hunting and killing large animals has drawn criticism from time to time. Perhaps the most controversial kill came last year when American dentist Walter Palmer took Africa's beloved black-maned beauty, Cecil the lion – renewing an intense debate over the sport.