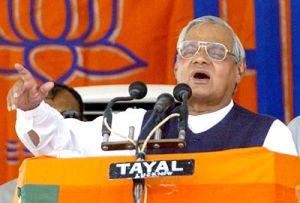 Cutting across party lines, political leaders welcomed the government's decision to confer Bharat Ratna, the nation's highest civilian honour, on former Prime Minister Atal Bihari Vajpayee and freedom fighter Madan Mohan Malviya.
While Prime Minister Narendra Modi said the award to the "illustrious stalwarts" of the nation was a "fitting recognition" of their service to the nation, Congress welcomed the move and hoped that the NDA government will follow the path of 'Raj Dharam' and secularism shown by them.
"Bharat Ratna being conferred on Pt. Madan Mohan Malaviya & Shri Atal Bihari Vajpayee is a matter of great delight," Modi tweeted soon after the announcement of the country's highest civilian honour being bestowed on them.
"Country's highest honour to these illustrious stalwarts is a fitting recognition of their service to the nation," he added in another tweet.
Congress General Secretary and in-charge of media communication Ajay Maken said, "to a certain extent, both represent the Indian thought which is secular and tolerant."
"We hope that this present government will walk in the path shown by these leaders," Maken told reporters.
Noting that Vajpayee had talked about 'Raj Dharam', Maken said he hopes that the Modi government will keep that in mind and follow it.
Vajpayee's long-time political colleague L K Advani said he was happy with the government decision to bestow the highest civilian award to the former Prime Minister. "I am very happy that Government has decided to honour Atalji with Bharat Ratna."
Janata Dal-United leader and former Bihar Chief Minister Nitish Kumar congratulated Vajpayee and said the UPA government should have conferred the award on the former prime minister.
"Atalji's contribution to the country will always be remembered. I congratulate him. We also wanted Bharat Ratna for Atalji. The UPA government should have given this award to him," he said.
Union Minister Prakash Javadekar termed it as the "best decision" of the government and expressed happiness over the recognition to Vajpayee as well as to Malviya.
"Today, we are very happy as Bharat Ratna is being conferred on Atal Bihari Vajpayee and Madan Mohan Malviya. This is the best decision taken by Narendra Modi and his Cabinet," Javadekar said.
Union Minister Harsh Vardhan said, "Atal ji has already been a 'Bharat Ratna' for us. People respect and love him. The announcement of the award is just a formality."
JD-U President Sharad Yadav also hailed the decision saying, "I am very pleased with this announcement. Malviya had a great role in Indian independence and he established a great institution like Benaras Hindu University. I have been associated with Atal ji for many years and even being in BJP he respected the composite culture of India."
Maharashtra Chief Minister Devendra Fadnavis also welcomed the Centre's decision.
"Atalji is a living legend. He is not only a leader but a statesman...I think he is recognised as a great leader of Modern India worldwide. I think the whole world will welcome this move," Fadnavis said.
Justice Giridhar Malaviya, grandson of Madan Mohan Malviya, said both Vajpayee and Malviya are respected by all sections. "I congratulate Modi who was the first person to go to Varanasi and garland the statue of Malviya ji."
Asked whether UPA should have taken such a decision, he said, "They would have also done this and it was really due. These are the two persons who were absolutely controversy-less. They were respected by all in the country."
Addressing the media after a Cabinet meeting, Union Finance Minister Arun Jaitley said the entire nation is celebrating the news of conferment of Bharat Ratna on Malviya and Vajpayee.
"It's a recognition of their services to the nation. Malviya ji was a great freedom fighter, an eminent lawyer, a great educationist and a very strong nationalist. He had been the President of Indian National Congress several times."
"Vajpayee ji has been one of the most outstanding Prime Ministers and leaders of India in the post-independence era. He was one of the greatest communicators that India has seen...He believed in taking the country forward toward consensus," Jaitley said.
Hailing the decision of conferring Bharat Ratna on them, Union Minister Ram Vilas Paswan and LJP Parliamentary Board Chairman Chirag Paswan congratulated the Modi government.
"Vajpayee should have been given the Bharat Ratna long back," the LJP chief said.