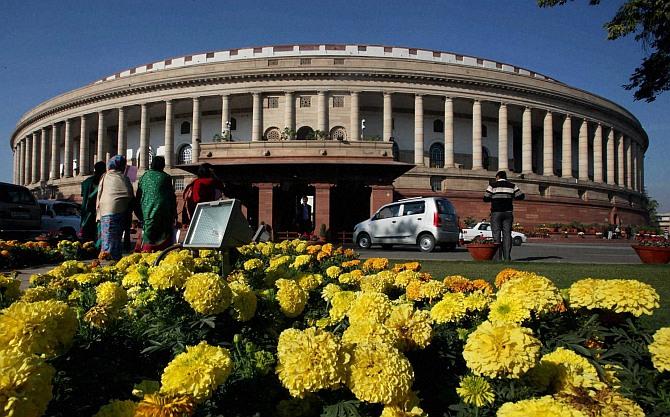 Parliamentarians led by Rajya Sabha Chairman Hamid Ansari, Prime Minister Narendra Modi and Lok Sabha Speaker Sumitra Mahajan on Saturday paid homage to martyrs on the 13th anniversary of the attack on Parliament.

UPA Chairperson Sonia Gandhi, former Prime Minister Manmohan Singh, Minister of External Affairs Sushma Swaraj, Home Minister Rajnath Singh and other members attended a solemn ceremony held in the premises of Parliament.

The leaders, who also included Deputy Speaker of Lok Sabha M Thambi Durai, BJP MP Meenakshi Lekhi and CPI's D Raja, observed a silence for a while in remembrance of the martyrs and paid them floral tributes.

Family members of some the slain martyrs along with Parliamentarians also paid tribute to them. A blood donation camp was also organised in Parliament premises in the memory of the martyrs.

Speaking on the occasion, Home Minister Rajnath Singh said, "The martyrs, who sacrificed their lives for the security of the biggest temple of democracy, can never be forgotten by the nation. I pay my tribute to them and express my respect to the families of the martyrs."

Paying homage to the martyrs, the Prime Minister had earlier tweeted, "We salute martyrs who lost their lives protecting the Temple of our Democracy on this day in 2001. Their sacrifices are etched in our memory".

Senior BJP leader L K Advani said that the challenge was not limited to that particular day and the nation is facing terrorism for a long time.

"This day reminds us that the threat is not over," he said.

Advani, who was Home Minister in the first NDA government led by Atal Bihari Vajpayee, recalled that Pakistan, had at time, in a way agreed that it will
demolish the terror infrastructure, it had created.
"We had told it that talks will be fruitful only if this step is taken. It is a matter of regret that this step has not been taken so far. Our opinion has always been that our neighbouring country should take this step. Only then our talks will be successful," Advani told reporters after the ceremony.
Lok Sabha Speaker Sumitra Mahajan, who was a Union Minister in 2001 in the Vajpayee government, wondered what would have happened even if a single terrorist would have entered Parliament as even the then Prime Minister Vajpayee was inside.
"When the incident happened, we were in shock for some time," she said recalling that she was not in Parliament at that time but in her ministry.
The Speaker lauded the "bravery", with which the martyred soldiers fought the terrorists.
Terming the attack on Parliament as an attack on democracy, Constitution and the system, CPI leader D Raja (CPI) said soldiers laid down their lives and made a great sacrifice for the country.
"The country needs to keep their memory alive and lawmakers must draw inspiration from the sacrifices made by our security forces. They remain a source of inspiration," he said.
On December 13, 2001, five heavily-armed gunmen stormed Parliament complex and opened indiscriminate fire, killing nine persons.
The martyrs included five Delhi Police personnel, a woman Central Reserve Police Force official, two Parliament watch and ward staff and a gardener.
A journalist, who was injured, died later. All five terrorists were shot dead.
A year later, four accused, including Afzal Guru, were arrested for the attack and found guilty after a trial. Guru was hanged this year in February after spending several years in jail.