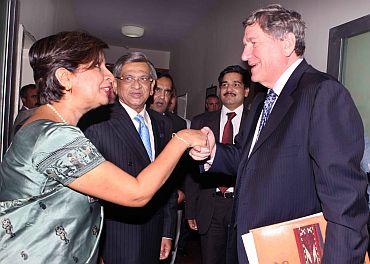 Richard Holbrooke, US Special Representative for Afghanistan and Pakistan, who died on Monday at age 69,  throughout his tenure in the Obama administration, scrupulously eschewed using the 'K' word despite constantly being baited by South Asian journalists and even US lawmakers after it was first rumoured that he would be President Obama's trouble-shooter for the subcontinent.
This would have necessarily meant a US effort to alleviate the Kashmir imbroglio between New Delhi and Islamabad.
When it was first learnt that such a move was in the works, the pro-India lobby moved aggressively to nip any such portfolio in the bud with New Delhi making clear that Holbrooke would not be welcome in India if he held such a portfolio.
The Obama administration consequently hastily retreated from any such intent and restricted his mandate exclusively to Afghanistan and Pakistan and Holbrooke henceforth shied away from even mentioning the word 'Kashmir.'
In one of his initial appearances before Congress -- which was just days before India's last general election (in 2009) -- after being appointed Obama's special envoy for Afghanistan and Pakistan, when Holbrooke was asked what the US can do to urge India to ease its tensions with Pakistan to help alleviate the Pakistani military's 'obsession' with India and hence be a catalyst in promoting the President's Af-Pak policy, he told lawmakers, "With great respect, since we are in the final days and hours of an election in India where 700 million people are voting, and since any comment I would make, might be misunderstood in that context, I would rather just simply restrict myself to saying that my job is Afghanistan and Pakistan."
However, Holbrooke, who was responding to the question posed by Senator Robert P Casey Jr, Pennsylvania Democrat, pointed out that "at all steps in the process, we keep the Indians fully informed."
"They are not only an interested party, they are arguably the interested party," he emphasised, "although many other countries, including most notably China and Iran have borders with Afghanistan and have also interests."
But he reiterated that "India's interests are very high -- India is the great regional power and I have great personal respect and affection for India."
"But, if you'll permit me, I'd like to stop at that point," he implored.
A few months later, he continued to be equally scrupulous, when asked at a briefing at the Foreign Press Center in Washington, DC about recent comments by Admiral Mike Mullen, chairman of the Joint Chiefs of Staff that a resolution of the Kashmir imbroglio is imperative to achieving peace in Afghanistan, asserted, "We are not going to negotiate or mediate on that issue and I'm going to try to keep my record and not even mention it by name."
"But I want to be clear," he said, "that anything that the two countries do to reduce tensions or improve relations will be something we would applaud and encourage."
But Holbrooke reiterated that "we are not going to act as intermediaries between Islamabad and New Delhi -- that is not what we are here to do. I'm not just talking about myself."
The previous week, testifying before the Senate Foreign Relations and House Foreign Affairs Committees respectively, Mullen made a case for India and Pakistan to return to the negotiating table, although he did not make a case for the resolution of the Kashmir dispute as a panacea for stability in the region as he did last week.
When he was asked at the time is there was any way, Pakistan could be persuaded to shed its India-focus, the top Pentagon official said, "India is a big player in that region as well. I think all of us -- international players, and particular regional players -- have to take steps to stabilise. The relationship between Pakistan and India is critical. Leadership there must, I think, step forward to stabilise that border more than anything else. I think that would be a great step forward in stabilising the region."
A couple of months later, the garrulous Holbrooke wasn't still biting for fear of being tripped when at an appearance at the Council on Foreign Relations, 'Read my lips,' was what he implied when he said, "I am not working on that problem," on being asked by a Pakistani journalist if the Obama administration was "serious to appoint any adviser to resolve this issue," since as this scribe from Islamabad contended, "We all know that deep down, there is no solution of Afghanistan and South Asia problem, without resolving the Kashmir issue that is controlled by Indian government."
Holbrooke asserted,  "I don't even mention the problem I am not working on. That's a game when I go to India -- and I go to India frequently and I look forward to going back soon because we keep the Indians very closely informed of our effort because India is hugely important factor here."
"But, whenever that question comes up, your Indian journalistic colleagues try to get me to mention the K word and I won't do it because everybody keeps saying that either I am secretly working on it, or I ought to be working on it," Holbrooke said.
However, he reiterated that "well, they are wrong on both counts. I am not working on that problem. The President addressed it very clearly as did the Secretary of State in recent interviews and my job is to work on the civilian side of Afghanistan/Pakistan."
Holbrooke acknowledged that "we all know how important that issue is—everyone knows it. And, it's a long tortured history. But, it's not what I do and it's not what the countries in the region expect me to do."
"And, I understand why you ask it, but that's the simple fact," he added.
At yet another appearance at the Foreign Press Center, Holbrooke asked what his take was on the evolving role of India in Afghanistan, and what his reaction was to the jostling between India and Pakistan vis-à-vis exerting greater influence in what happens in Afghanistan, replied: "India is part of the region -- the largest country in the region. And, although I have no responsibility for US-India relations, because of their great importance in these issues, I go to Delhi as often as I can."
He argued that "the Indians have a legitimate series of security interests in that region, as do a number of other countries, including, of course, Pakistan, China, and all the other countries that neighbor on Afghanistan."
Thus, he said, "Any search for a resolution of the war in Afghanistan requires that the legitimate security interests of every country be understood and taken into account."
Obama, in mourning Holbrooke's demise, described him as "a true giant of American foreign policy who has made America stronger, safer and more respected. He was a truly unique figure who will be remembered for his tireless diplomacy, love of country, and pursuit of peace."
"When I became President," he said, "I was grateful that Richard agreed to serve as Special Representative for Afghanistan and Pakistan," and added, "The progress that we have made in Afghanistan and Pakistan is due in no small measure to Richard's relentless focus on Afghanistan's national interest, and pursuit of peace and security."
Image: File picture of Richard Holbrooke shaking hand with Foreign Secretary Nirupama Rao in Kabul as External Affairs Minister S M Krishna looks on in July, 2010
Photograph: Jay Mandal/On Assignment