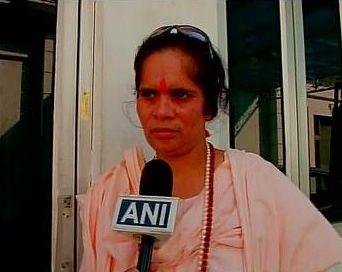 Suggesting that films starring Bollywood actors Shah Rukh Khan, Aamir Khan and Salman Khan are spreading a culture of violence, Bharatiya Janata Party MP Sadhvi Prachi advised youngsters not to idolise the triumvirate.
Speaking at a programme of Vishwa Hindu Parishad in Dehradun on Sunday, the Sadhvi, known for stoking controversies by her statements, said once she had been to a programme in Meerut where she asked a young boy what he wanted to become in life.
"He said he wanted to become like Hritik Roshan, Shahrukh Khan, Salman Khan, Aamir Khan. When I asked why, his mother told me because they are good at doing stunts," she said.
Suggesting that the Khans and their films are spreading a culture of violence, she asked the younger generation not to get fascinated by them and idolise them.
Calling for a boycott of the Khan triumvirate's films by the right wing Hindu outfits, she said, "I, for one, would ask the Bajrangis to make a bonfire of the posters of films of Shahrukh Khan, Salman Khan and Aamir Khan."
Sadhvi Prachi also accused Mother Teresa of proselytising in the name of service like all missionaries do.
"Mother Teresa indulged in conversion by luring people over to Christianity under the pretext of service," she said.
Rashtriya Swayamsevak Sangh chief Mohan Bhagwat had also made similar remarks saying that Christianity was the main objective behind Mother Teresa's service to the poor.
"Mother Teresa's service would have been good. But it used to have one objective, to convert the person, who was being served, into a Christian," he had said while speaking at a function organised by NGO Apna Ghar.