Each year the nation is glued to its television screen as the country shows off its might at the Republic Day parade.
However, it takes much practice with sessions starting 5 am, and dedication of the participating paramilitary jawans, other participants and behind-the-scenes helpers -- labourers, cleaners and security staff, among others -- who brave the relentless Delhi chill to make the parade a flawless spectacle.
Here's a look at what we'll get to see at this year's R-Day parade.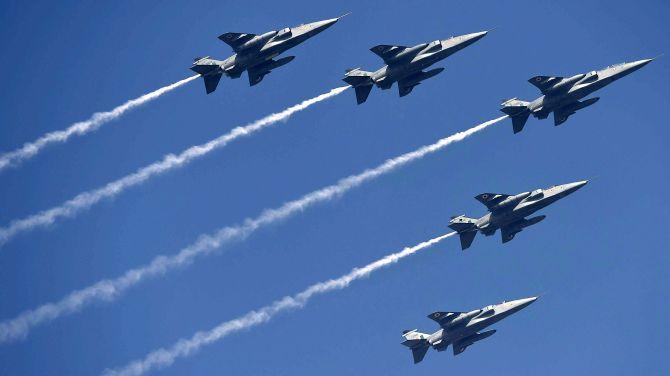 Indian Air Force fighter planes flying past during the Republic day parade rehearsals at Rajpath in New Delhi. Photograph: Ravi Choudhary/PTI Photo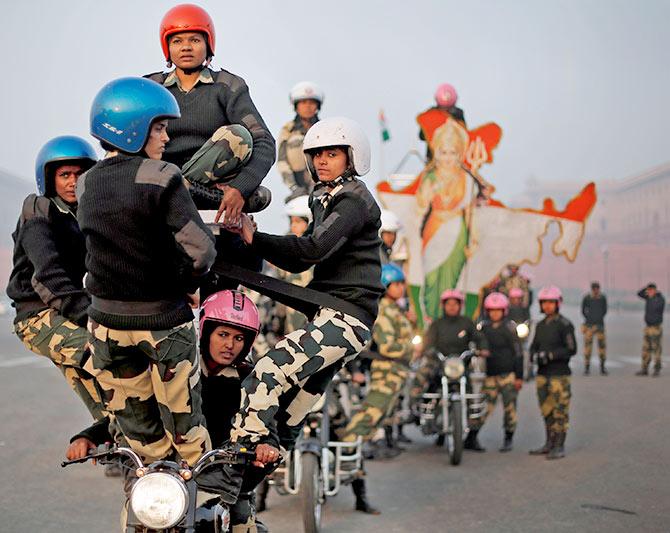 Men performing biking stunts at Republic Day functions is history. The Border Security Force has now trained 113 women bikers who will be riding on 26 350 CC Royal Enfield motorcycles to perform acrobatics and daredevil stunts at this Republic Day parade. Photograph: Adnan Abidi/Reuters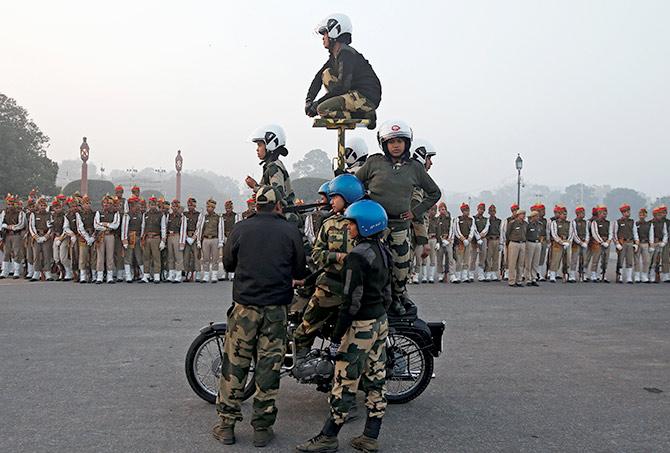 The bikers, in the age group 20 to 31 and led by Sub-Inspector Stanzin Noryang, 28, from Jammu and Kashmir's Ladakh region, would be a first all-women contingent from any force to perform biking stunts at the annual event. Photograph: Adnan Abidi/Reuters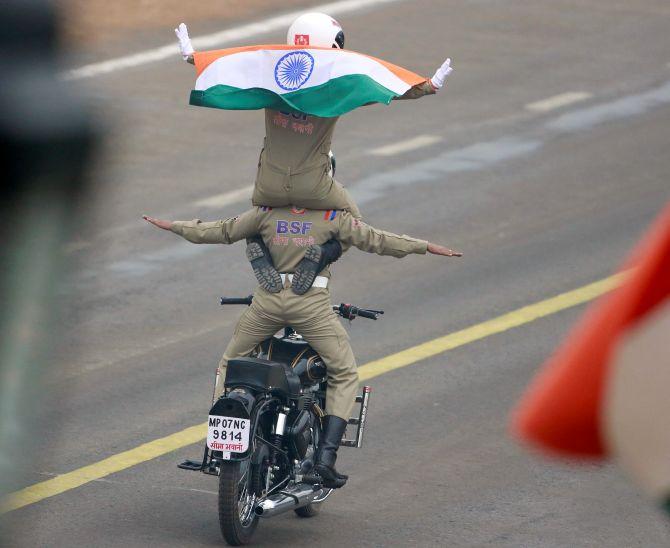 BSF's "Daredevils" women motorcycle riders perform during the full dress rehearsal for the Republic Day parade. Photograph: Cathal McNaughton/Reuters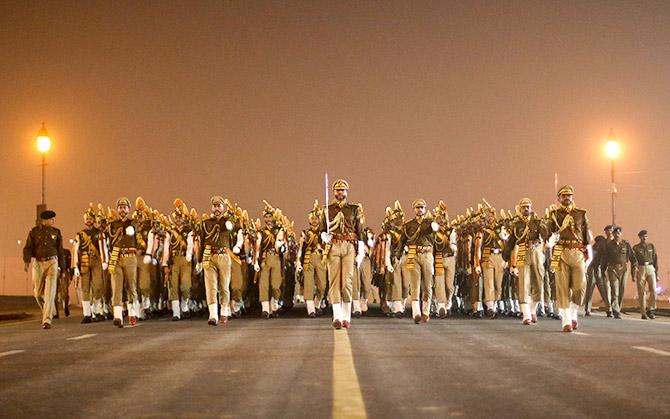 Dressed impeccably in their uniforms, and marching in sync to the leading officer's commands a contingent can be seen rehearsing on Mansingh Road (Rajpath) in the wee hours of the morning. Photograph: Adnan Abidi/Reuters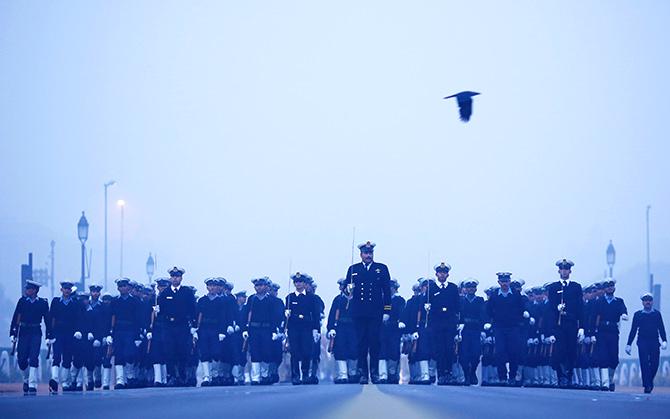 The practice sessions, which begin in November, start at 5 am and soldiers participating in the event, say it is a great honour for them. Photograph: Adnan Abidi/Reuters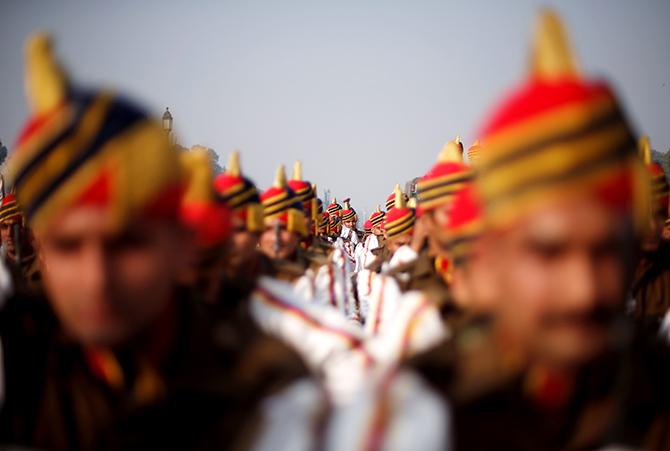 Contingents of Border Security Force, Sashastra Seema Bal, Indo-Tibetan Border Police, Indian Coast Guard, Indian Army, Indian Air Force, Indian Navy and Delhi Police will march in the event. Photograph: Adnan Abidi/Reuters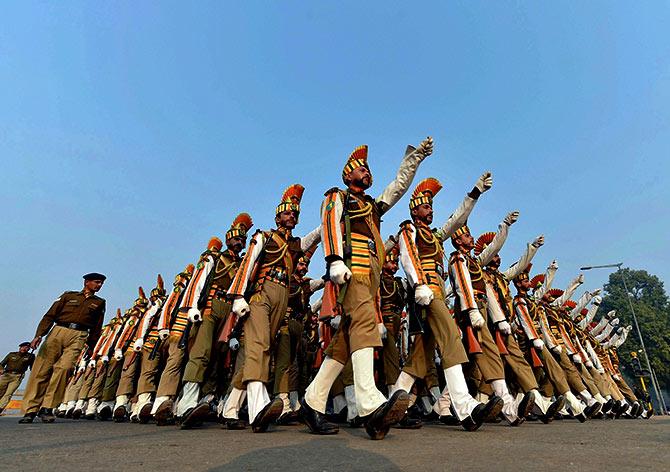 The Indo-Tibetan Border Police contingent will be back participating in the event after a break of two years. s part of a new rotation policy of paramilitary forces' squads at the Republic Day parade, the contingents of two other forces--the Central Reserve Police Force and Central Industrial Security Force -- have been taken out of the event this time. Photograph: Kamal Kishore/PTI Photo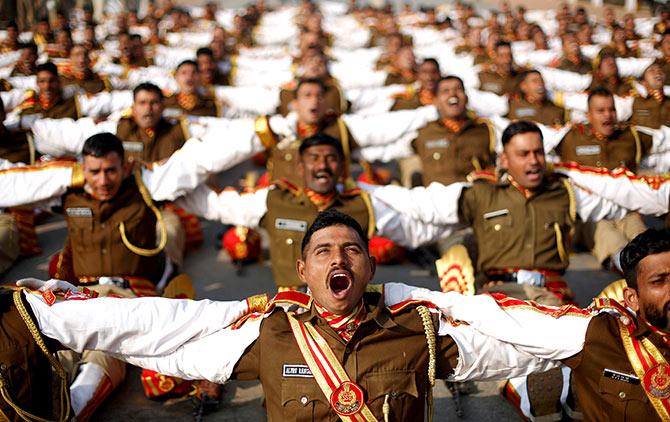 Soldiers take part in a laughter yoga session during their rehearsal for the Republic Day parade. Photograph: Adnan Abidi/Reuters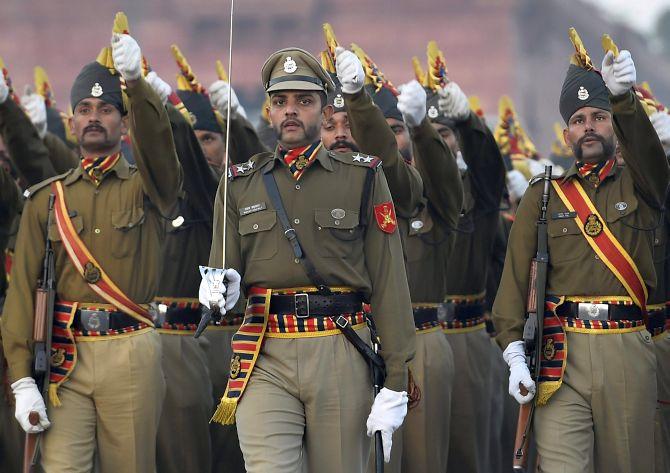 The BSF squad will return to the event after one year's gap. The BSF will have the largest presence amongst the forces with its famed camel contingent, camel-mounted band team, marching squad of troops along with band and the bike-borne 'Janbaaz' (daredevils) team. Photograph: Kamal Singh/PTI Photo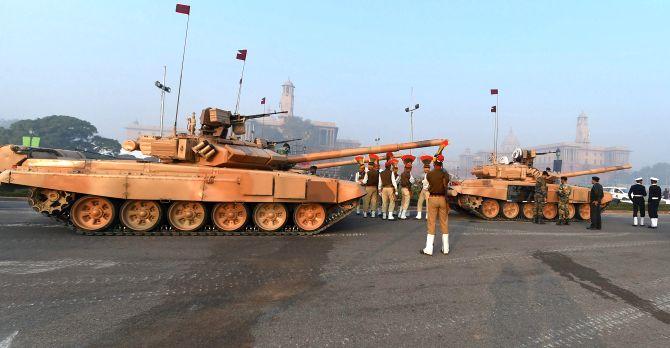 Army tanks seen at Vijay Chowk during the Republic Day parade rehearsal at Rajpath. Photograph: Vijay Verma/PTI Photo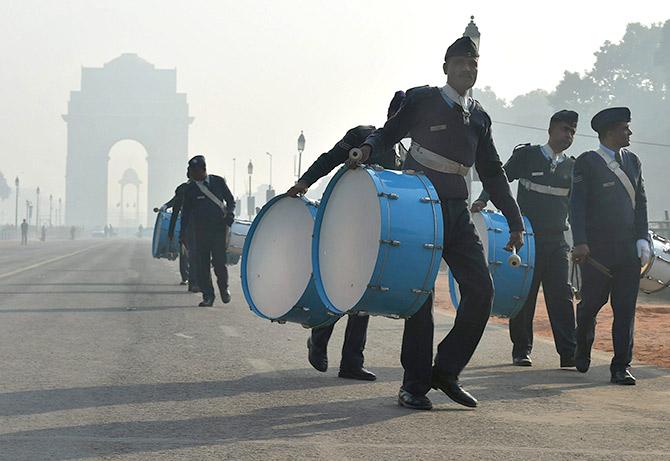 The Navy band personnel during rehearsals ahead of the Republic Day parade. Photograph: Kamal Kishore/PTI Photo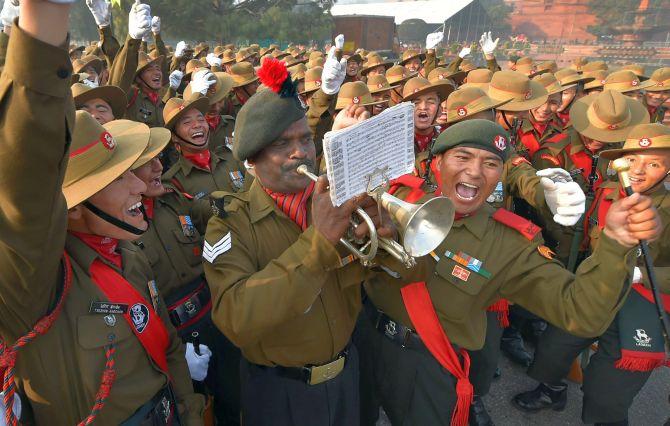 Ladakh Scouts soldiers jubilate during a rehearsal for the Republic Day parade at Rajpath. Photograph: PTI Photo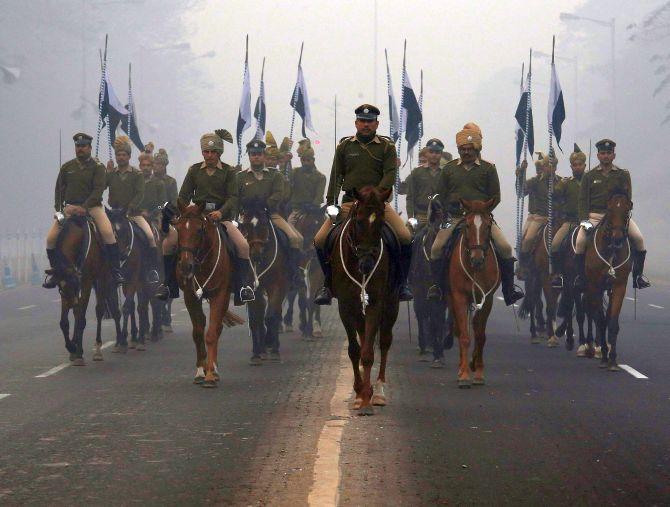 Members of Kolkata Mounted Police take part in a rehearsal for the Republic Day parade on a foggy winter morning. Photograph: Rupak De Chowdhuri/Reuters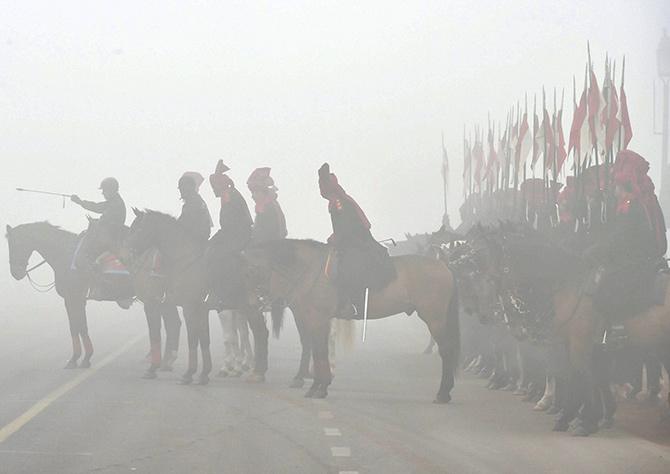 President's bodyguards practice in dense fog foggy winter morning. Photograph: Shahbaz Khan/PTI Photo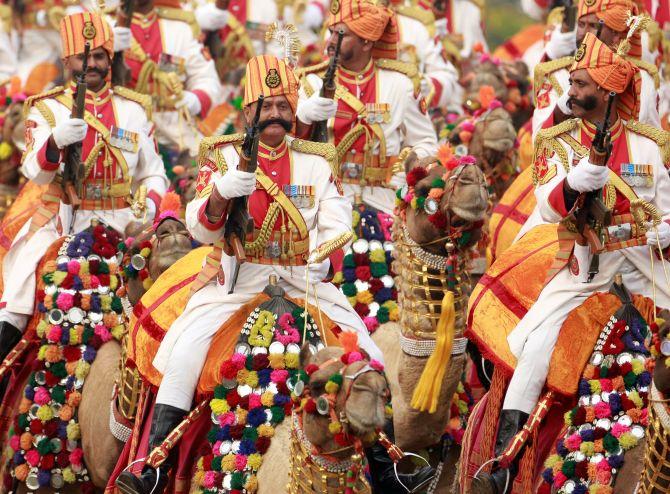 The BSF's camel contingent at the dress rehearsal for the Republic Day parade. Photograph: Cathal McNaughton/Reuters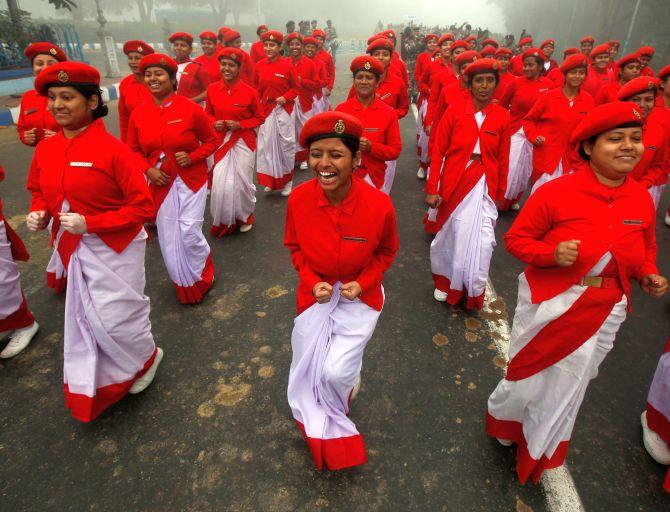 Civil defence personnel laugh before they start their rehearsals for the Republic Day parade. Photograph: Rupak De Chowdhuri/Reuters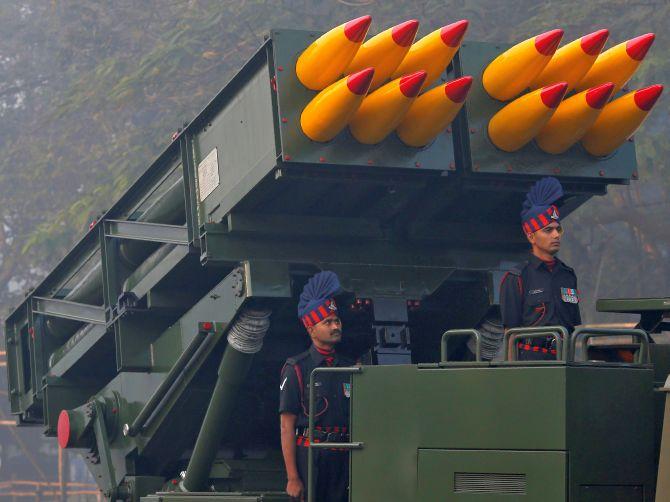 The Indian Army's Pinaka multi-barrel rocket launcher systems displayed during the rehearsal for the Republic Day parade. Photograph: Rupak de Chowdhuri/Reuters