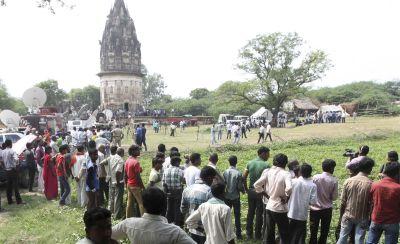 The Unnao gold hunt is an exercise in softening Hindu sentiments in the bigger dig for votes in Uttar Pradesh in 2014
India is the land of sages, but given that the opposite of any assumption about India is also true, there is an equally large distribution of crooks and charlatans spread across this ancient land.
They are gold diggers all, but often the difference between sage and charlatan is indistinct. For some weeks now, the Archaeological Survey of India is engaged in digging up a fort in district Unnao, Uttar Pradesh, in pursuit of a crackpot sadhu's dream that 1,000 tonnes of gold lied buried underneath.
Why is no one stopping this lunatic search at taxpayers' expense? The buck stops at Union Minister of Culture Chandresh Katoch's desk. She is responsible for dispensing the ASI's Rs 100-crore annual budget.
If she believes that the ASI is some sort of gold promotion council running a televised treasure hunt, why not start with a few old temples and forts in her hometown of Jodhpur, which she represents in Parliament?
The truth is that the Unnao gold hunt is an exercise in softening Hindu sentiments in the bigger dig for votes in Uttar Pradesh in 2014. It was unleashed by Charan Das Mahant, Union minister of state for agriculture and food processing, notorious before this episode for stating, "If Congress president Sonia Gandhi asks me to pick up a broom and sweep the state Congress office in Chhattisgarh, I would do it."
The sadhu's hallucination has created a host of gold diggers, from senior Congress leader Renuka Chowdhury, who says, "no harm can come of it", to Gujarat Chief Minister Narendra Modi, who compliments him for his tapasya (penance) and tyaga (sacrifice).
More dangerously, Unnao's gleaming mirage has sparked off unauthorised excavations by villagers at monuments in outlying districts. This is very likely a ruse to legitimise a land grab of public and ASI-protected properties.
The Indian public has been duped by similar fantasies before. During former Prime Minister Indira Gandhi's paranoid Emergency regime, the army was sent to Jaipur's Jaigarh Fort to dig for buried gold; the tangled case was linked to the late Gayatri Devi, Rajmata of Jaipur, jailed ostensibly for breaking foreign currency regulations.
After months of searching, nothing was found -- except some crumpled dollars at her residence. Equally farcical was an alchemist nightmare called Ramar Pillai of Tamil Nadu, who in 1996 swore he could produce petrol from herbs. His claim was fervently backed by M Karunanidhi, then chief minister, who condemned "north Indian scientists" for denigrating an honest Tamil's miracle discovery.
The burden of guilt in such cases lies not with a bunch of self-serving politicians but with institutions such as the ASI. This hoary body celebrated its 150th anniversary in 2011 and is entrusted with the protection and maintenance of more than 3,600 national monuments through its headquarters in New Delhi and two dozen regional offices.
Archaeology being a concurrent subject, states also have separate archaeology departments. Like most government offices, these teem with ill-qualified time servers. Many important monuments, for example the Qutb Shahi tombs in Hyderabad or Shah Jahan's Minar in Janakpuri, Delhi, end up being nobody's baby.
Bizarre historical anomalies are spawned by this many-tiered byzantine system: whereas Jantar Mantar in Delhi comes under the aegis of the ASI, its counterpart in Jaipur is managed by the state authority, though both observatories were built by the same man! Hundreds of monuments, as a result, are literally falling to ruin from lack of standardised or specialised preservation norms.
A deplorable example is the widespread use of cement in restoration instead of lime mortar, the traditional labour-intensive binder that requires a high degree of artisanal skill.
Historians such as Nayanjot Lahiri of DelhiUniversity have long argued that the key to reforming the ASI is to appoint a professional archaeologist as director general. Gautam Sengupta was one such, but since his retirement this year, the job has again gone to an Indian Administrative Service officer, Pravin Srivastava.
This beleaguered bureaucrat is only part-time head, since the other half of his double duty is to serve as member-secretary of the National Monuments Authority.
With so much power invested in one administrator overseeing such a vast terrain, is it any surprise that the gold diggers are at it again?