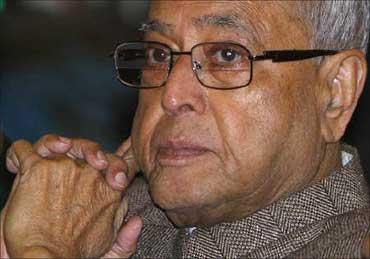 President Pranab Mukherjee on Friday asked bureaucrats to not be subject to political interference and advised that civil servants should tell politicians what cannot be done and why it cannot be done.
He added that officers should understand the viewpoint of politicians also as they were answerable to the electorate.
"You need not subject yourself to the pressure of political interference. At the same time I would request you to understand the compulsions of the politician," Mukherjee said addressing senior IAS officers attending a mid career training programme at the Lal Bahadur Shastri National Academy of Administration.
Politicians have to go every five years seeking votes with a begging bowl and they were answerable to their electors, he said.
"My advice to senior civil servants is be a little patient, tell him (politician) this cannot be done, why it cannot be done," he said. "We often hear the complaint that many a thing could not be done or implemented due to political interference. I do not hesitate to share the perception, yes it is there," the President said.
Mukherjee recalled his first stint as a minister in the 1970s, saying he had a learned Indian Administrative Service officer as secretary whom he once asked if he felt "embarrassed" taking instructions from a newcomer like him.
He quoted his secretary's reply, "Mr Minister, when I receive instructions from you, I do not look at your face. I look beyond your face, the vast multitudes of people of this country who have chosen you to be here."
The bureaucrat further added that he would endeavour to give the correct advice and it is for the minister to decide whether he would listen or not, Mukherjee said.