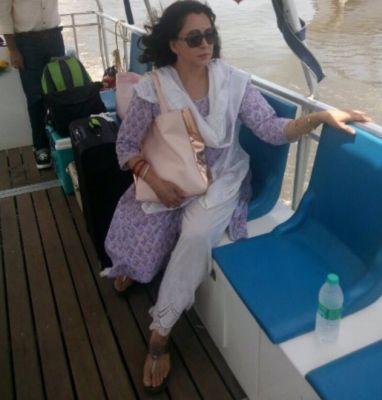 The Bharatiya Janata Party was left red-faced on Friday when Mathura member of Parliament Hema Malini uploaded on Twitter her photographs during a movie shoot in Mumbai, even as her party launched a scathing attack on the Uttar Pradesh government in the wake of the encroacher-police clash that left 24 people dead.
She, however, quickly deleted her posts and later condoled the death of the Mathura superintendent of police and a station house officer in the incident.
The actor also tweeted that she had just come back from Mathura and 'will go there again if my presence is required'.
'I just came back from Mathura and got the news of the violence that has taken place there in which policemen have lost their lives. So so upset by this news from a place which is so dear to me. Will go there again if my presence is required. My heart goes out to the bereaved (sic),' she said.
She had earlier tweeted a number of her photographs during a movie shoot and later deleted them following criticism on the social media.
BJP spokesperson Sambit Patra said she is 'extremely sensitive' to the situation and will reach Mathura soon but insisted that the issue should not be used as a 'diversion' as law and order is the state government's responsibility and not of the local MP.
Moreover, demanding a judicial probe into the violence, the BJP alleged that the killers of the two police officers enjoyed 'protection' of ruling Samajwadi Party and the incident highlighted 'lawlessness' in the state.
BJP president Amit Shah sent national secretary Shrikant Sharma to take stock of the situation.
Sharma said killing of policemen was 'height of anarchy' and alleged that the policemen were ill-prepared to control the mob as 'they were under pressure from the administration to go easy as land-grabbers had links' with the ruling party.
"The ruling party first had over 280 acres of land captured by these criminals. The main conspirator in the case has full protection of the Samajwadi Party. Policemen were sent to the spot with their hands tied and this is why two of them died," he said.
"Criminals in UP are highly-motivated due to their protection by the ruling party and that is why there have been almost 900 cases of police personnel being attacked by them under its rule," he said and cited incidents in Tunda, Allahabad and Bareilly.
"This state government has become a blot and people will wipe it away during the polls," he said.
The state is going to elections early next year.
"Mathura incident is entirely because of intelligence failure. Timely assessment was not done as to how many people were present at the spot and what fire arms they possessed," UP BJP spokesman Vijay Bahadur Pathak said in Lucknow.
He said people present at Jawahar Bagh collected fire-arms over a period of time.
"Weapons have not come overnight. Local intelligence unit keeps a close watch on small agitations, but what was it doing there," he asked.
Pathak said it should be found out as to whose political patronage the encroachers were enjoying.
He said BJP had been raising the issue of 'deteriorating' law and order but it fell on deaf ears.
"Mathura incident has proved there is no semblance of law and order in the state," Pathak claimed.
Image: A photo Mathura MP Hema Malini tweeted of her film shooting at Madh Island near Mumbai on Friday. She later deleted the photo, Photograph: @dreamgirlhema/Twitter