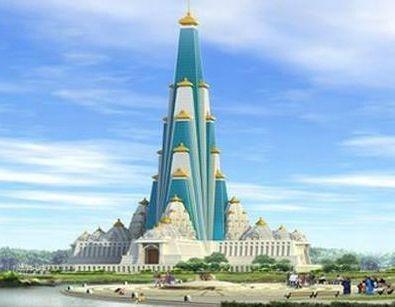 In Vrindavan, work is on to build the world's tallest religious structure, a new temple for Krishna by ISKCON-Bangalore. The planned 700-feet tall structure intends to take visitors on a spiritual experience, says Veenu Sandhu
The capsule elevator will rise up the steel belly of the skyscraper. On its 700-feet journey, it will take visitors past the various universes of Hindu mythology: Svarga Loka, that transitory place for righteous souls; Vaikuntha Loka, the abode of Vishnu; and finally Goloka Vrindavan, the eternal abode of Krishna.
At each stop, visitors will get a three-dimensional, light-and-sound experience of these planetary systems as described in the Vedic scriptures. From here, the elevator will move further up to the viewing gallery at the very top that will have telescopes through which visitors can see the Yamuna, Mathura, Govardhan, Nandgaon and, on a clear day, even the Taj Mahal, 70 km away.
The 70-storey, 210-metre-high Vrindavan Chandrodaya Mandir will be nearly three times the height of Qutub Minar and taller than the Great Pyramid of Giza. Conceptualised by the International Society for Krishna Consciousness -- Bangalore, this sprawling 65-acre project intends to put Vrindavan on the world map.
About 2 km from the bustling temple town, on the highway to Mathura, work on the mammoth project, which is shaped like a peacock feather, has started. The foundation stone was laid on March 16, and last week President Pranab Mukherjee performed puja here. Over the next five years, here is how ISKCON aspires to transform what is today a vast stretch of barren land.
The architecture will be a fusion of western and traditional styles. The intended end result is a skyscraper temple. "The skyscraper is a concept from modern architecture and requires modern technology," says Chanchalapathi Dasa, project president and vice-president, ISKCON-Bangalore. "And the shikhar, mandap and other structures will be built in the traditional Nagara architectural style which was prevalent in northern India." The use of marble and glazing in the central structure also reflects this fusion.
While the temple will occupy about 5,00,000 square feet, close to 7,00,000 square feet will be meant for education. As ISKCON believes in salvation through devotion to Krishna, as exemplified by Chaitanya Mahaprabhu in the 15th and 16th centuries, the emphasis will be on the knowledge of Krishna that has been assimilated into local cultures across India and represented in dance, art, music, literature, architecture and even cuisine.
The KrishnaHeritageMuseum will preserve and showcase these varied expressions. The Science and Spirituality Pavilion will present contemporary scientific discoveries and concepts and try to correlate them with some of the concepts present in Indian Vedic literature -- the bugbear of modernists. For example, the Bhagavad Gita Expo will offer students an expositional tour and concepts of the Gita "in a way that is appealing to the scientific temper of young people," says Chanchalapathi.
The organisation is relying heavily on technology to introduce younger children to Krishna. "The days when grandmothers told stories to children are gone. YouTube and 3D experiences have taken over," says an ISKCON devotee. This is where "multi-sensory environmental story-telling experiences" will play a key role. The complex will have a climate-controlled, covered KrishnaLeelaPark spread across 200,000 square feet where children will get 3D experiences of the many acts Krishna performed as a child. An internally reconstructed Yamuna creek with boats will meander through this park.
Around the central complex, ISKCON plans to recreate 12 forests. "Vrindavan was a vana, a forest. But there's no forest left now," says Chanchalapathi. ISKCON intends to recreate those forests that find mention in Vedic scriptures in the area called Braj Mandal, a large part of which falls in Uttar Pradesh and some of which is in Rajasthan and Haryana. Each forest had its own kind of flora, fauna, water bodies and caves.
About 28 acres of land around the temple have been earmarked for these forests. For example, Talavana had tal (palm) trees with fruit that Krishna and his cowherd friends are said to have been attracted to. Similarly, there are other forests planned like Bhandiravana with banyan trees, Kumudavana with lotus and lily ponds, and Kamyavana with rocky, mountainous caves. ISKCON has been in consultation with the Uttar Pradesh forest department to source the trees.
Krishna, say his devotees, performed leelas, or magic, in these forests. Those experiences will be recreated. For example, the story goes that a demon called Aghasura came in the form of a gigantic python to kill Krishna. He opened his mouth and sat in wait. Mistaking his open mouth for a cave, Krishna and his friends decided to explore it. Once inside, Krishna saw his friends fainting because of the obnoxious smell coming from the guts of the snake.
He tore through the snake and released his friends. ISKCON wants to create a tunnel shaped like a python winding around a hillock. A water slide will take people through the snake's cave-like mouth and out at a point where a large statue of Krishna is seen tearing open the snake's body. The boat will take people past lakes of 'gastric juice' and remnants of other things the snake has ingested.
Now if people are going to be visiting a site as expansive as this, housing will be critical, more so as the temple is a bit removed from the city. So it plans to build simple, inexpensive rooms, ashrams, cottages and bungalows. The bungalows will be put up for sale.
It's hard to believe it when ISKCON members tell you that the estimated cost of this ambitious project is merely Rs 350 crore. "It's all about intelligent design and creative engineering," says Chanchalapathi. "This shikhar (skyscraper) that is contributing to the height is like the EiffelTower. It is a steel structure with an external façade. We have to spend some money on the façade, but internally it's just steel." He says while a skyscraper costs about Rs 75 lakh per square feet, "we are doing this at about Rs 11 lakh per square feet".
Meanwhile, the civil engineering department of the Indian Institute of Technology, Delhi, is reviewing the structural design. The wind tunnel test has also been conducted to see how the structure will hold out against storms. For water, which will be critical to create and sustain the forests, ISKCON has bought two plots of land on the banks of the Yamuna, about 3 km from the temple site, and installed pumps. Pipes from there will bring water to the site.
As of now, standing on the barren stretch, it's difficult to imagine the picture ISKCON is painting.