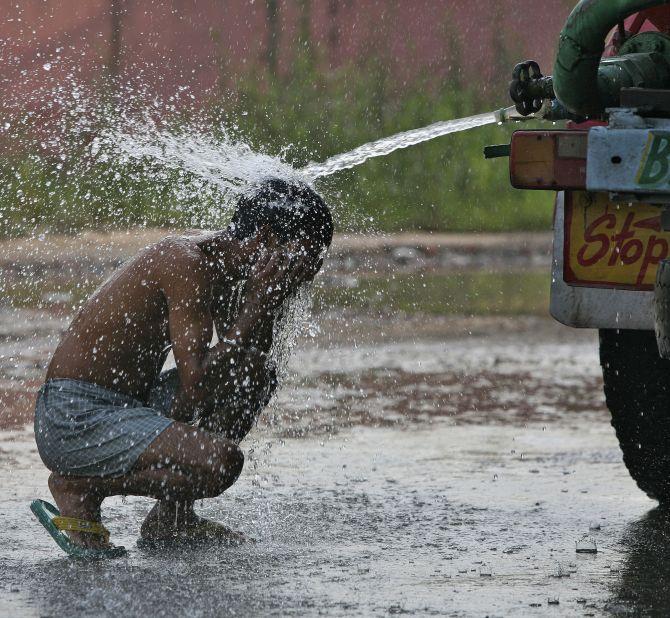 Ninety more deaths were reported from Andhra Pradesh, Telangana and Odisha due to the heat wave, raising the nationwide toll to 2338 even as some places like Delhi got respite on Monday from the sweltering weather because of the overcast sky and scattered rainfall.
Delhi received light showers which brought temperature down to 37 degrees celsius from 40.6 degrees Celsius on Sunday.
Meanwhile, Andhra Pradesh reported death of 42 more people due to the heat wave, raising the toll in the state to 1719 from 1677 on Sunday.
In Telangana, the toll rose to 585 from 541, Special Commissioner, Disaster Management Sada Bharghavi said.
She said the latest figure was of May 30 as "we are yet to receive reports for May 31 and on Monday."
Asked if all these deaths were due to the heatwave, she said, "These are preliminary reports which say these deaths occurred due to the summer. A three-member committee at district-level comprising tehsildar, civil surgeon and local (police) station house officer will find out the exact cause of deaths."
Following this, a certified report will be issued and ex-gratia will be given to the relatives only if heatwave is confirmed as the cause, she told PTI.
The sunstroke death toll in Odisha mounted on Monday to 25 from 21 even as the mercury level fell in all places with the highest temperature of the day being recorded at 40.2 degree Celsius in the state capital Bhubaneswar.
A report received from the Odisha's special relief commissioner's office said 25 have so far died of sunstroke even though the revenue department has received 131 cases allegedly due to heat related incidents in the state.
Meanwhile, reacting to reports in section of media that of the over 1,600 heat wave deaths, only one-third have so far been certified to have been caused by heat, Andhra Pradesh Principal Secretary (Land and Disaster Management) Jagdish Chander Sharma said a three-member committee in each district verifies the circumstances leading to the deaths.
"The committees so far have ascertained that nearly 600 deaths are caused due to heat wave and the kin of those died are being given ex-gratia. With regard to remaining 1,000 plus deaths, the committees will cover and complete the process in next one week," Sharma told PTI.
"Most of the deaths are due to heat wave...may be some deaths may not be due to heat wave, for instance death of farmers...the committees will probe their genuiness," he said.
The committees will investigate all death cases as proper records have to be maintained in view of distribution of ex-gratia, he said.
The committees comprising the Tahasildar, local civil assistant surgeon and local police Station House Officer will visit and confirm the deaths whether they are due to heat wave and that process has already started, he said.
Special Commissioner Disaster Management Tulasi Rani said the committees are in existence since 2013.
"We are consolidating the heat wave death report based on information given by district collectors. Before distributing ex-gratia the committees will thoroughly examine on the cause of the deaths and if it is confirmed due to heat wave then only ex-gratia is distributed in such cases," she said.
Instead of post-mortem reports of the people who died, the reports of the panels are considered for giving ex-gratia, she explained.
In Andhra Pradesh, Prakasam district has recorded the maximum number of deaths at 333, followed by Guntur - 237
East Godavari- 204, Vizianagaram - 199, Visakhapatnam- 193, Nellore - 165, Krishna - 80, Chittoor- 67, Anantapur and Srikakulam - 63 each, Kadapa and Kurnool - 39 each and West Godavari - 37.
The figures pertain to the period from May 18 till 8 pm on Monday.
According to the MeT department, heat wave conditions prevailed over some parts in the districts of Guntur of Coastal Andhra Pradesh on Sunday.
Rain occurred at many places over Rayalaseema and at isolated places over Coastal AP.
The highest maximum temperature of 45 deg Celsius was recorded at Jangamaheshwarapuram on Sunday.
In Telangana, since April 15, Nalgonda district has recorded maximum number of deaths (148), followed by Karimnagar (145), Khammam (100), and Mahabubnagar (45), Ranga Reddy (36), Medak (35), Adilabad (26), Warangal (21), Nizamabad (18) and Hyderabad (11).
Heat wave conditions prevailed over many parts in the districts of Adilabad, Warangal, Hyderabad, Ranga Reddy, Mahabubnagar and Nizamabad on Sunday, it said.
In Odisha, barring Bhubaneswar and Malkangiri, all stations recorded temperatures below 40 degree C, the IMD said.
The IMD predicted thunder squall accompanied by hail and gusty wind speeds reaching 70 kmph at one or two places over the districts of Jajpur, Keonjhar, Angul, Sambalpur, Sonepur, Boud, Bargarh, Dhenkanal, Cuttack and Khurda