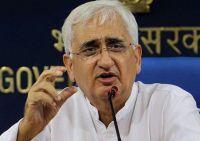 Reacting to David Headley's sentencing, Foreign Minister Salman Khurshid said on Friday that in India the trial of the Pakistani origin American would have been more severe and would have been given a longer jail term for his role in the 26/11 Mumbai attacks.
Headley, an American had admitted scouting targets for the 2008 militant raid on Mumbai and later agreed to testify against the plotters to avoid the death penalty, was sentenced on Thursday to 35 years in prison.
Headley, who later agreed to testify against the Mumbai attack plotters to avoid the death penalty, was sentenced to 35 years in prison.
Khurshid expressed disappointment over India not been allowed to conduct Headley's trial inspite of him being the co-conspirator in the 2008 Mumbai carnage.
He said: "Our request and demand was that we try him in our own country and I think that possibly it would have been more serious and severe sentencing but 35 years sentencing and what the judge has said is a beginning."
Earlier New Delhi had expressed disappointment over failure of the earnest plea for Headley's extradition for his role in militant attacks on Mumbai.
Khurshid added that the verdict indicates that militancy would not be tolerated.
"We understand there are legal procedures in the United States of America but nevertheless the position that we have and the request that we made remains intact but at the same time it is a beginning that has been made and going by what the judge has said this should go a long way in hopefully conveying a very clear message that the kind of things that have been hoping in the past will not be tolerated."
Formerly known as Daood Sayed Gilani, Headley, conspired with the LeT and ex-military officers of Pakistan to launch the 2008 Mumbai attacks.
He was arrested in October 2009 and since his arrest and subsequent guilty plea, Headley has been cooperating with US and Indian authorities, and has yielded much information about his associates.
Headley had pleaded guilty to 12 charges, including conspiracy to bomb places of public use and commit murder and plotting an attack on a Danish newspaper.
Last week, Judge Leinenweber sentenced Pakistan i-born businessman Tahawwur Rana to 14 years in federal prison for providing support to the Lashkar-e-Tayiba, the group blamed for the Mumbai attack.