Everybody in Tamil Nadu, it seems, has an opinion on Rajinikanth entering politics.
A Ganesh Nadar speaks to Tamilians about the superstar's chances in the electoral arena.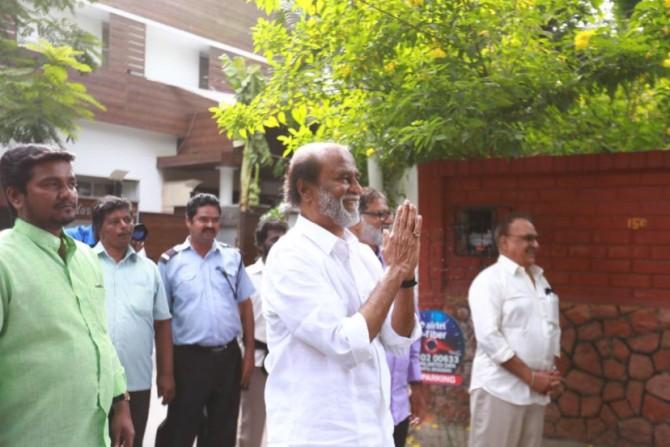 IMAGE: Rajinikanth greets people outside his home in Chennai soon after announcing his decision to enter politics. Photograph: Kind courtesy @Rajni_FC on Twitter
The political vacuum created by J Jayalalithaa's death and M Karunanidhi's retirement from active politics in Tamil Nadu is creating a restless polity, with various players trying to fill that space.
The latest and most potent entrant is superstar Rajinikanth.
His entry into politics, announced on December 31, 2017, has become the biggest topic of discussion in Tamil Nadu, with people cutting across class and caste divisions discussing his prospects if he were to actually do what he has promised.
"He is going for soft Hindutva which will not gel well with the minorities," feels A R Meyamma, a journalist from Madurai.
"His idea of spiritual politics will show as only Hindutva," Meyamma adds. "Everybody knows that Rajinikanth has a soft corner for the BJP."
"If you follow social media," Meyamma says, "youngsters are pointing out that none of the southern states are ruled by outsiders. Show me one chief minister anywhere in India who does not belong to that state," alluding to the fact that Rajinikanth is a Kannadiga of Maharashtrian origin.
"Dreaming about ruling us will lead to his ruin," says S Chitrapandi, a businessman from Coimbatore.
"I never voted for MGR (the late Tamil movie superstar and chief minister), and I will not vote for Rajinikanth either."
"He will lose his deposit in all 234 seats," says a caustic J Prabhakaran, a former panchayat president.
"He should have entered politics two decades back, in 1996. He was then young and full of vigour."
Prabhakaran is sure who Tamil Nadu's next chief minister will be.
"T T V Dinakaran has the money and the apparatus to distribute it, an unbeatable combination in Tamil Nadu. TTV is the next chief minister!" declares the farmer.
"The timing is perfect," K R Mohanram, a landlord in Chennai, says about Rajinikanth's decision to plunge into politics.
"He has a wavering mind. He needs somebody to keep him steady. That only the BJP can do," adds Mohanram. "They can also guide him. The entrenched crooks in Tamil Nadu politics will try to pull him down, the BJP can protect him from them."
"He has a great opportunity," says T Murugesapandi, chairman of a co-operative bank in Tuticorin district. "The media loves him. The media can create hype and a wave that can carry him across the winning post."
"Rajinikanth will go the Sivaji Ganesan way," says G Solomon, an AIADMK worker from Thirumalapuram, Tuticorin district. "Sivaji entered politics, but never won a single election."
"In Tamil Nadu," says Solomon, "only one person can win elections, that is T T V Dinakaran. He is my thalaivar (leader) and he will be the next chief minister."