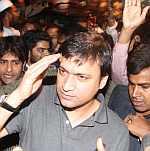 The Andhra Pradesh high court has admitted a petition filed by All India Majlis-e-Ittehadul Muslimeen leader Akbaruddin Owaisi seeking quashing of charges against him.
The high court also issued notices to the Andhra Pradesh government and the police on the petition. The court however refused to grant a stay on the proceedings against him and suggested that the matter would be heard in detail during the next course of hearing.
Owaisi had moved the high court after the police had him for inciting communal tension and also waging war against the state after he had delivered a hate speech.
Owaisi was arrested by the police and later remanded to judicial custody till January 14. There was high drama which prevailed prior to his arrest.
Owaisi had cited medical grounds but the police subject him to a medical test at a government hospital. The MIM had called for a bandh following his arrest.
However the situation remained peaceful thanks to the heavy police presence in the various areas of Andhra Pradesh which have been sensitive.