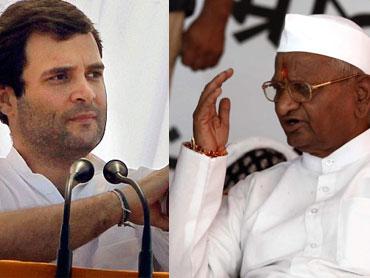 Appearing to soften his stand against the Congress on the Lokpal issue, Anna Hazare has written to Rahul Gandhi praising his "commitment" to the anti-graft bill, and the Congress leader has responded by saying he was "very grateful" for the Gandhian's support and respected his role on the issue.
The letters by Hazare and Gandhi were released by the All India Congress Committee on Tuesday, on a day the Bill was slated to come up for consideration and passage in the Rajya Sabha.
In his letter to Gandhi on Sunday, Hazare, who has been critical of the way the Congress and the Centre have handled the Lokpal Bill, said, "I welcome your commitment towards passing the Lokpal and Lokayukta Bill in Parliament. My request is that the points which have been endorsed and recommended by the select committee on the bill are included in it.
"These points have been decided with consensus by all political parties who were part of the select committee," added Hazare.
Hazare also said if Parliament makes an effort to give more teeth to this law by incorporating from more effective things other than the recommendations of the select committee, it will be in the interest of the people.
"People of the country are waiting for a competent Lokpal," Hazare said in the letter, copies of which have also been marked to Prime Minister Manmohan Singh, Minister of State for Personnel V Narayanasamy and the chairman of the select committee of Rajya Sabha which went into the Lokpal issue.
Rahul replied to Hazare on Monday thanking him for his letter.
Addressing the Gandhian as "dear" Anna Hazare, Rahul said the letter has given him "great encouragement."
"All of us are committed to provide the people of this country a competent and strongest possible Lokpal system. We respect your role in this task and we are very grateful to you for your support," Gandhi said in his letter.
Welcoming the development, AICC communication department chairman Ajay Maken said, "Rahulji has said in his letter that he respects the role played by Hazareji to bring in Lokpal issue. He is in constant touch with ministry of parliamentary affairs and other ministries in this regard so that this bill can be smoothly and very soon passed in Parliament."