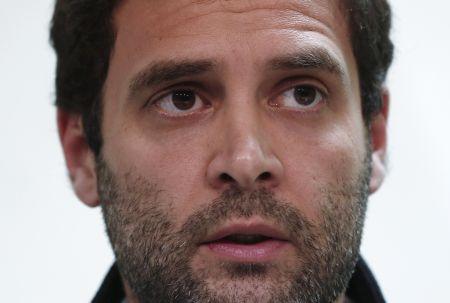 The Congress has "consensus" over the leadership of Rahul Gandhi as its prime ministerial candidate, a party spokesperson said on Monday amid speculation that he may be anointed as the party nominee at the All India Congress Committee meeting being held in New Delhi on January 17.
"Right now Congress party wishes that Rahul is projected as PM candidate....If this announcement is made, we all will be very happy. Right now there is a consensus in the party on his leadership....Today we feel people are looking at a face," party spokesperson Priya Dutt told reporters at the AICC briefing.
She was replying to a question as to who is the candidate of the party for prime ministership, especially of the younger generation at a time when BJP has rooted for Narendra Modi.
To another question whether Rahul is the panacea for all ills facing the party, she said, "We should not think of anything as a remedy.
"I do not agree....We have never mentioned anything like this," she said when told that the party had earlier spoken of a third term for Prime Minister Manmohan Singh.
Another party spokesman Bhakt Charan Das dismissed suggestions that Gandhi should be blamed for the drubbing received by the party in the just-concluded assembly polls in four states.
"I don't think you can fix blame on one person," he said when asked as to how could Rahul be named the PM candidate of the party after the debacle in the assembly polls in which he played a key role in campaigning and strategy.
Dutt said that since Rahul became the party vice president in January this year, his focus has always been to work for the organisation and he has never shown preference for any other job.
Besides, she said that there has always been "subtle" projection of Rahul for the top job. "There has not been an aggressive projection, but there has been subtle projection from the beginning", she said.
While BJP had named Modi as PM candidate in September, there has been criticism that Congress has been reticent about naming its nominee.
Earlier, party general secretary Janardan Dwivedi dismissed as "illogical" questions that the AICC meet has been called to anoint Gandhi as the PM candidate.
He said that the agenda for the AICC meet is decided by the Congress Working Committee, which also finalises the draft resolutions that come up before the meet.
Photograph: Adnan Abidi/Reuters