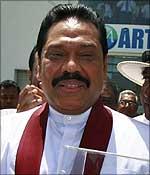 Sri Lankan President Mahinda Rajapaksa on Friday dismissed reports about his government flouting agreements reached in the 1987 Indo-Lanka Accord which created devolved administrative units, saying there had been no violations.
"We have not violated anything on the Indo-Lanka accord," Rajapaksa said while responding to questions during a media interaction. He added that New Delhi had not raised any concerns with Sri Lanka on the thirteenth amendment to the Sri Lankan constitution.
The 13A and the provincial councils entered Sri Lanka's statutes in 1987 as part of the India-Sri Lanka Peace Accord which envisaged devolution of powers to the island's provinces in an effort to end the Sri Lankan civil war involving the Liberation Tigers of Tamil Eelam and the government forces.
The LTTE was crushed in 2009, ending its three-decades-old fight to create a separate Tamil homeland in the northern and eastern provinces.
Media reports suggested that the Indian government was planning to raise concerns with Colombo over Rajapaksa's plan to tinker with the thirteenth amendment.
The government has proposed an amendment to the 13A which is to be presented in Parliament as an urgent bill.
It seeks to repeal provisions in the 13A which empower two or more provinces to merge.
A parliamentary select committee will look at the other requisite amendments.
The move came amidst calls by his majority Sinhala nationalist allies to scrap the 13A ahead of the northern provincial council elections in September.
Rajapaksa said the PSC, which will soon be appointed, would be the forum for all parties to air their views on the 13A.
Responding to media reports that National Security Adviser Shiv Shankar Menon was to visit Colombo in July on the issue of 13A, Rajapaksa said the visit was of a routine nature in connection with the joint defence cooperation talks between India, Sri Lanka and Maldives.