Former Narcotics Control Bureau zonal director Sameer Wankhede, accused of demanding a bribe from Shah Rukh Khan for not implicating his son Aryan Khan in the 2021 drugs-on-cruise case, has claimed in his petition that the superstar praised the officer's "integrity" and pleaded with him to be kind to Aryan.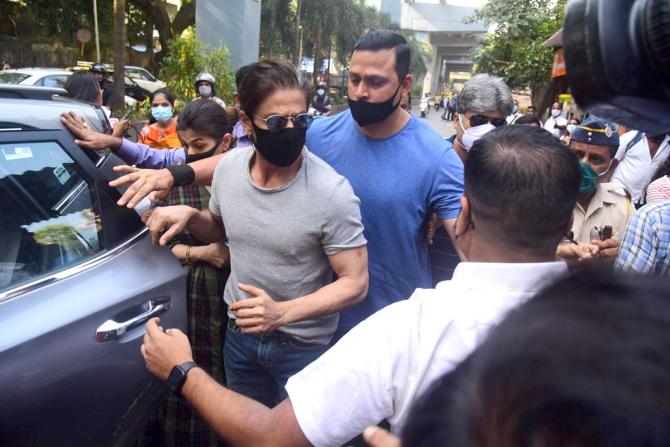 As per Wankhede's petition before the Bombay high court seeking to quash the FIR registered against him by the Central Bureau of Investigation for bribery, Khan deplored the political involvement in the case.
As per the transcript provided in the petition, in one of the messages, the actor said, "God bless you. I have to come personally whenever you say and give a hug to you. Let me please know whenever it's convenient for you. Really I have always had the highest regard for your uprightness and now it has increased manifolds. Big respect. Love srk"
"Please show some kindness my man. Love srk I can only plead and beg you as a father. Please," the superstar said in another chat, as per the petition.
Wankhede told the actor in one conversation that he wanted to be kind to "the child and look at him in a reformatory way," but the effort was "maligned by vested interest people."
The actor replied that his son was not part of that and "You know his part is minuscule in it. All he needs is reformation..."
Khan also said, as per the transcript, that he "went out of my way and without even knowing them (those with vested interest) called and begged them not to involve my child in their politics."
On Friday, a vacation bench of Justices Sharmila U Deshmukh and Arif S Doctor, after recording Wankhede's undertaking that he will remain present at the CBI's office on Saturday, directed the agency not to take any "coercive action" against him till May 22.
The petition, filed through advocate Rizwan Merchant, claimed that Khan's text messages to Wankhede "clearly portrayed that he has no grievances against the petitioner and has only requested to be kind to his son (Aryan) Khan."
The transcript of these conversations, which took place between October 3 and 15, nowhere suggest that any demand for bribe was made, the petition said.
Khan asked Wankhede to assist him in ensuring "reformation of his son", the plea said, adding that this suggested that Aryan had engaged in "some act of omission or commission under the NDPS Act of which the actor was aware."
Aryan Khan was arrested by the NCB on October 3, 2021, following an alleged drug seizure on board the Cordelia cruise ship in Mumbai.
He was granted bail by the high court after three weeks as the anti-drugs agency failed to substantiate its charges against him.