The high-profile rape cases in Hathras, in Unnao (2018) and Kathua (2018) show that the infrastructure slated under the Nirbhaya Fund is either absent or inefficient, reports Geetanjali Krishna.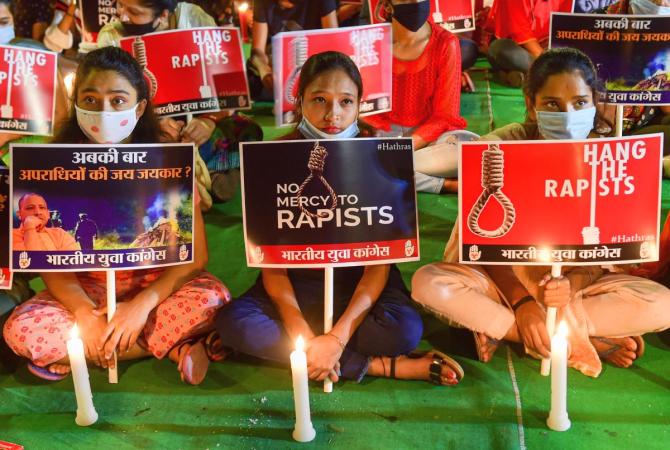 The rape and murder of a Dalit girl in Hathras has once again brought issues of women's safety into focus.
It has also highlighted that the much-vaunted Rs 10-billion Nirbhaya Fund, created in 2013 to provide timely assistance, treatment and rehabilitation to survivors of sexual violence, has failed to hit the mark.
The high-profile rape cases in Hathras, in Unnao (2018) and Kathua (2018) show that the infrastructure slated under this fund is either absent or inefficient.
"By focusing on projects like creating special helplines and installing CCTVs under the Nirbhaya Fund, the government has made all the right noises without having actually done much for women's safety," says Vrinda Grover, lawyer and women's rights activist.
"Helplines are useful only when linked to emergency response infrastructure -- else they're no different from dialing 100 (for the police). As for CCTVs, where in rural India would one install them? They should instead be installed in police thanas (stations) to keep tabs on their functioning."
Poonam Kaushik, lawyer-activist from Delhi-based Pragatisheel Mahila Samiti, who has conducted fact-finding missions into the rape cases in Kathua and Unnao and has recently returned from Hathras after recording testimonies of the victim's family, has observed this on the ground.
"After the girl was raped around 9.30 am, her family said they couldn't access any ambulance," Kaushik says.
"Instead, they took her to the nearest police station, where the police refused to register a case and asked them to hire a tempo to take her to the hospital since they had no vehicle handy."
The hospital at Hathras had no facilities to treat her, so the family took her to Aligarh where, at around 4.30 pm -- seven hours after her rape -- she finally began receiving treatment.
"This was crucial time lost when she could have received life-saving treatment and her samples could have been collected for forensic analysis," Kaushik says.
Moreover, at the outset, the victim had said that she'd been raped.
"The fact that the hospital and the police didn't examine her or record her testimony immediately amounts to criminal destruction of evidence," says Grover.
The Hathras rape also highlights what the Unnao and Kathua cases have done before -- few projects under the Nirbhaya Scheme have actually been implemented.
A Press Information Bureau report from February 2020 informs that of the Rs 2,228.30 lakh allocated to Uttar Pradesh for One Stop Centres (OSCs) -- where victims of sexual violence could get medical aid, police assistance, legal aid and psycho-social counselling -- a meagre Rs 39.72 lakh has been utilised.
Uttar Pradesh isn't even in the list of states to whom funds have been allocated for appointing Mahila Police Volunteers, Women and Child Development Minister told the Lok Sabha in response to a question in March 2020.
The pan-India utilisation of Nirbhaya Fund is no better. A standing committee in Parliament noted in March 2020 that of the total apportioned amount of Rs 7,436.66 crore under the Nirbhaya Fund, only Rs 2,647.89 crore has actually been disbursed.
Merely 36 per cent of the Central Victim Compensation Fund has been used till now.
As of June 2019, only 617 OSCs are operational in 35 states and Union Territories -- when the Parliamentary committee recommends one in every district.
Meanwhile, Grover says that crucial issues remain unheard.
"Why hasn't the UP government filed criminal charges under Section 166 of IPC against the policemen at the thana, the doctors who didn't collect forensic evidence long after the victim was admitted and the police personnel who forcibly cremated her body?" she asks.
The message is clear: Unless systemic changes are brought about in procedure and the Nirbhaya Fund focuses on projects that will genuinely benefit victims and survivors of sexual violence, they'll continue to be denied justice.