Could the defeat of Vasundhara Raje, Shivraj Singh Chouhan, and Raman Singh in last year's polls in Rajasthan, Madhya Pradesh, and Chhattisgarh, respectively, augur a transition in the command structure of these states, where they reigned supreme?
Radhika Ramaseshan reports.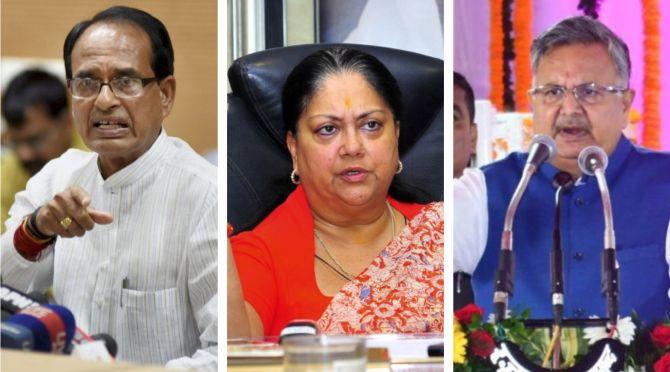 The Bharatiya Janata Party has seamlessly raised its next generation of leaders -- its fourth since Atal Bihari Vajpayee, L K Advani, and Murli Manohar Joshi constituted the first line-up that took the party to power -- in the shape of Devendra Fadnavis, Pramod Sawant, Jai Ram Thakur, Sarbananda Sonowal, Trivendra Singh Rawat, and Raghubar Das.
Among them, the chief ministers of Maharashtra, Goa, Himachal Pradesh, Assam, Uttarakhand, and Jharkhand have either justified their appointment by the BJP high command or are yet to earn their stripes.
Their predecessors, who belonged to a more secure era when the BJP would not experiment with its regional chiefs, have gone into political oblivion or taken up gubernatorial assignments and ministries at the Centre.
Could the defeat of Vasundhara Raje, Shivraj Singh Chouhan, and Raman Singh in last year's polls in Rajasthan, Madhya Pradesh, and Chhattisgarh, respectively, augur a transition in the command structure of these states, where they reigned supreme as chief minister or Opposition leader, as in Vasundhara's case, for 15 years, or will the BJP brass keep them on?
There are no straight answers because right now the Centre's assessment varies, depending on the former chief ministers' continued "utility", their perceived mass base and popularity, the ability to take the cadre along, and, most critically, their equations with Prime Minister Narendra Modi and BJP president and home minister Amit Shah.
"On a scale of one to 10, Vasundhara is the most vulnerable, followed by Singh. Chouhan has the greatest survival potential," a central BJP functionary said.
Vasundhara went into a shell when the BJP lost Rajasthan.
She disregarded her appointment as national vice-president, as did Chouhan and Singh.
However, while the former MP and Chhattisgarh chief minister reconnected with the voters through programmes, Vasundhara was not seen or heard of until she surfaced on Facebook.
Her posts picked her "achievements" as chief minister and mentioned her recent visits to Jhalrapatan, her assembly constituency.
On its part, the BJP high command gave Vasundhara short shrift.
Gulab Chand Kataria, Opposition leader in the legislative assembly, is an old adversary and, while left to herself, sources said she would not have endorsed the anointment of Satish Poonia as Rajasthan party president.
There was more to come.
In the recent assembly by-elections in Khinswar and Mundawar, the BJP's central leadership kept its deal with the Rashtriya Loktantrik Party, helmed by Hanuman Beniwal. Beniwal, a former BJP member, never passed up a chance to denounce Vasundhara, who ensured he was ousted from the party.
Because of Beniwal's assumed clout among the Jats of Nagaur, from where he is an MP, and north-west Rajasthan, Shah cemented a pact with the RLP before the 2019 elections.
The BJP gave Khinswar, in Nagaur, to the RLP and Beniwal fielded his brother, Narayan Lal.
He took potshots at Vasundhara, saying that the renewed alliance demonstrated that she "no longer mattered". Narayan Lal won from Khinswar.
"It was an unkind cut but our top leaders said nothing," said a Rajasthan office-bearer.
Vasundhara expectedly did not campaign in the by-polls.
A legislator from west Rajasthan believed to close to her said: "Knowing her, she will rise like a phoenix. She embodies glamour, hard work, and success. That's a rare package in my state."
Even a known Vasundhara detractor conceded the point:
"If she moves around in Rajasthan, a majority of the legislators will gravitate towards her. Her drawback is she forgets that it's the party that brought her to power."
Chouhan is quite the antithesis of Vasundhara.
"He made it clear to New Delhi that he wished to confine himself to MP," a source close to him said, emphasising that Chouhan's "self-enforced limit" was to allay a perception that he had nursed national ambitions.
Setting aside a health issue, he campaigned tirelessly in the October 21 Jhabua assembly by-election, which the BJP lost to the Congress.
While canvassing, Gopal Bhargava, the Opposition leader who's rumoured to be a "favourite" of New Delhi, used the tag line that a vote for the BJP was a vote to return Chouhan as chief minister, ominously hinting at a design to topple the Congress government.
Clearly the slogan did not work.
In the 230-member legislature, the Congress was precariously ahead of the BJP.
However, by winning Jhabua, it is slightly better-placed now.
"Chouhan is the only mass leader we have. MP has a huge population of the Other Backward Classes. As long as the BJP was controlled by the upper castes, we experienced limited success. OBC leaders like Uma Bharti and Chouhan took us to new heights," said an MP from Baghelkhand, adding, "it's not easy to identify and nurture leaders. The high command knows it."
Singh is out of place in the BJP's changed tack in Chhattisgarh, which places greater emphasis on promoting the Kurmis, other OBCs, and tribals, and not Rajputs, the caste to which Singh belongs.
"Singh has outlived his relevance," a source said, as the Congress consolidated its strength in the by-elections, despite the Lok Sabha poll reverse.