In a fresh missive to Nobel laureate Amartya Sen, Visva-Bharati university on Friday asked him to immediately hand over parts of a plot he was allegedly occupying in an "unauthorised manner" at Santiniketan.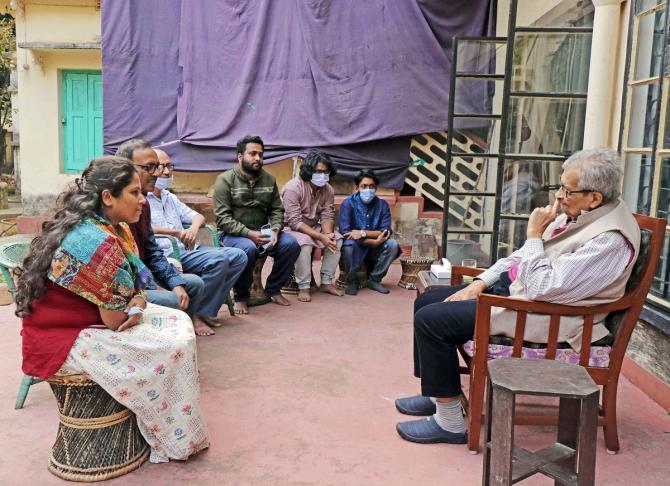 This is the second such letter from the central university to the noted economist in three days.
Sen earlier asserted that most of the land he is holding in the Santiniketan campus was purchased from the market by his father while some other plots were taken on lease.
"The annexed letter dated January 24 and other documents are self-explanatory. You are in possession of 1.38 acre of land which is in excess of your legal entitlement of 1.25 acre."
"Kindly return the land to Visva-Bharati as early as possible since application of the laws of the land will cause embarrassment to you and also to Visva-Bharati which you endear so much," the letter dated January 27 said.
Sen on January 25 wondered why the central university suddenly has become "so active" in trying to drive him out of that place.
Hinting that action under law would be taken by the university if measures were not taken on the part of Sen now, the letter said, "The procedure for reclamation of illegally-occupied land follows the well-established laws of the land."
A Visva-Bharati official said the letter has been delivered to the Santiniketan residence of the economist who mostly lives in the US.
Three days back, a letter signed by the deputy registrar of the university to Sen said, "It has been found from records and physical survey/demarcation that you are in unauthorised occupation of 13 decimals of land belonging to Visva Bharati...".
Sen told PTI on Wednesday: "I could not see any subtlety in their (university authorities') thinking. There is confusion in their mind and I do not know what to say. I also do not understand the politics behind this attitude of Visva-Bharati university."
"This is my residence which was built on leased land from Visva-Bharati in the 1940s. The land was leased out to us for 100 years. Some of the land was also bought by my father from the market following all rules and regulations. There was no danger of overstaying," he had said.
There have been allegations from certain quarters that the university's actions may be politically motivated given the fact that Sen has been critical of many central government policies.
In January 2021 also, Visva-Bharati accused Sen's family of being in illegal possession of land on the campus.