'The words they have used seem to suggest that they hate our community.' Ritu Jha/Rediff.com reports from California.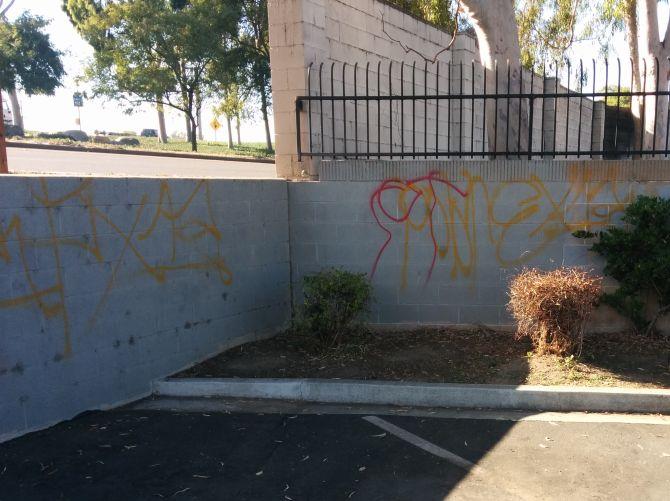 IMAGE: The gurdwara's defaced wall marred with expletives. Photograph: Ritu Jha/Rediff.com
A gurdwara in southern California was vandalised along with a community member's truck in the parking lot with hateful graffiti sprayed over the vehicle.
Gurdwara authorities believe the attack is a backlash for the San Bernardino massacre, where 14 people were slain by a Pakistani couple.
The incident occurred at the Gurdwara Singh Sabha in Buena Park, a suburb of Los Angeles, either on the night of December 5 or early morning the next day, Jaspreet Singh, a member of the gurdwara's board of directors, told Rediff.com
The graffiti on the gurdwara wall included anti-ISIS expletives along with several gangland references while words like 'Islahm' were sprayed on the wall of the trailer truck.
Board members reported the crime to the Buena Park police department on Sunday, December 6.
"Every Sunday morning, thousands of devotees come to worship here," Singh said. "We have a wall at the back of the gurdwara that touches the freeway (highway). They defaced both the inside and outside of the walls with graffiti. They also disfigured a trailer truck parked inside the gurdwara premises."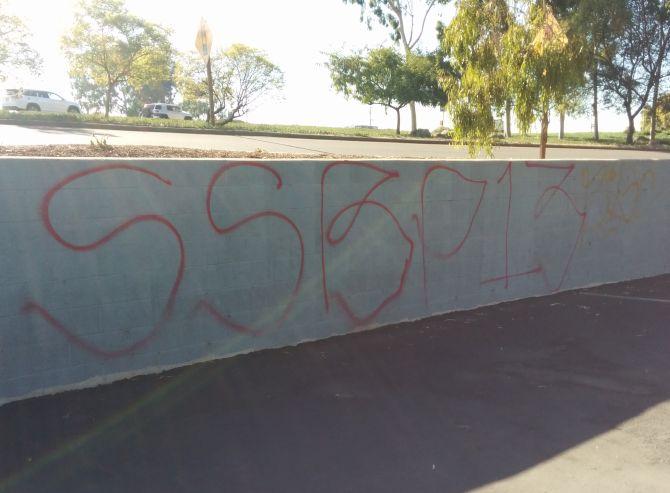 IMAGE: A view of the gurdwara's defaced outer wall. Photograph: Ritu Jha/Rediff.com
"We heard of repercussions after the San Bernardino incident," Singh added, "and were afraid that an attack might happen in retaliation."
Singh said the authorities suspect the vandals may be local gang members. "The words they have used seem to suggest that they hate our community," he added.
In the aftermath of the 9/11 attacks, many Sikhs bore the brunt of hate crimes. Sikhs along with the Sikh Coalition have been engaging in community outreach programmes for 14 years.
'We believe the Gurdwara Singh Sabha was vandalised because it is a house of worship,' the Sikh Coalition's senior staff attorney Gurjot Kaur said.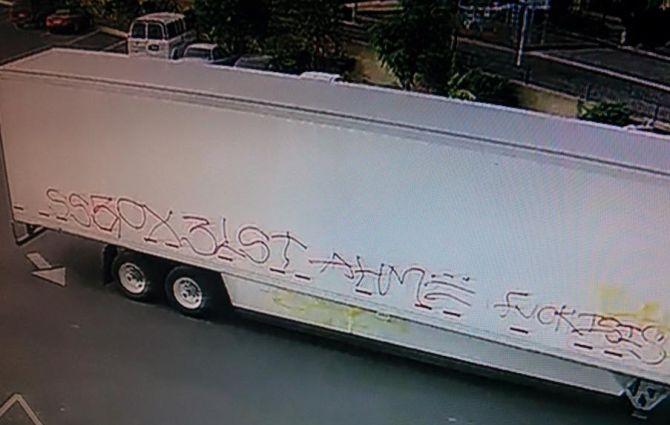 IMAGE: The vandalised truck. Photograph: Ritu Jha/Rediff.com
In September, a Sikh was viciously assaulted in a suburb outside Chicago after being called 'Bin Laden.' In 2014, Sandeep Singh, a Sikh in New York City, was run over and dragged 30 feet after being called a 'terrorist.'
Earlier still, in 2012, a gunman with Neo-Nazi ties walked into a Sikh gurdwara and killed six Sikhs in Oak Creek, Wisconsin.
"Many people still do not know about Sikh values and the significance of the beard and the turban," Singh said. "They think we are members of a terrorist group like the Taliban or Islamic State or are Afghans."
Several Sikh leaders have expressed concern over the anti-Muslim rhetoric heard in recent weeks, fearing that hate speech against Muslims could engulf Sikhs and members of the Muslim community across the nation.