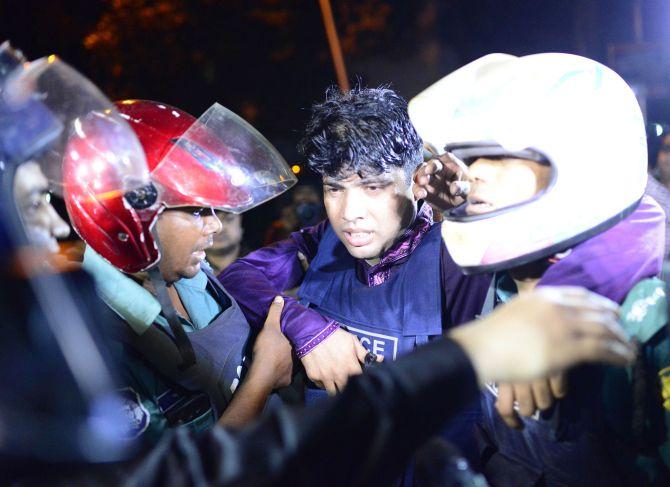 "They stormed in shouting Allahu Akbar."
Sumon Reza, supervisor at the O' Kitchen Restaurant, who escaped the gunmen after they stormed the Holey Artisan Bakery located in Gulshan 2, an upmarket neighbourhood that is home to many shops, embassies and restaurant in Dhaka, recounts the horror of the attack.
Reza told reporters that the attackers were armed with firearms and bombs as they entered the restaurant and took customers and staffers hostage at gunpoint.
Lori Ann Walsh Imdad was in her apartment when she heard the gunshots. It seemed like they never stopped. And when she looked out of her window she saw people running for their lives.
Imad, the principal of the American Standard School in the Bangladeshi capital, Dhaka, found herself witness to the latest incident of terror. Speaking to The Independent, she said, "I've been hearing gunshots all night long. And I've seen people running."
Image: An injured Bangladeshi policeman being assisted after a grenade attack at a restaurant nearby in the early hours of July 2 in Dhaka, Bangladesh. Photograph: Mahmud Hossain Opu/Getty Images