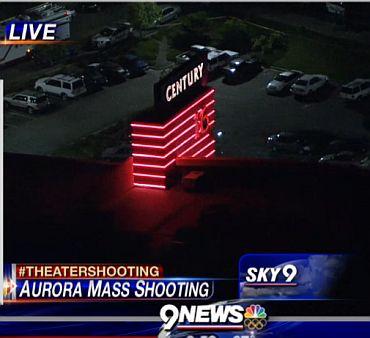 Crowds thronging a cinema hall in the United States for the much-awaited premiere of a new Batman movie on Friday witnessed a macabre dance of death as a masked gunman opened indiscriminate fire, killing 14 people and injuring 50.

The gunman in full body armour opened fire at the cinema complex in Aurora at Denver, Colorado, at a midnight showing of the latest Batman flick, The Dark Knight Rises, starring Christian Bale and Anne Hathaway, witnesses said.

Forcing an entry into the hall through an emergency exit door in theatre 9, the shooter wearing a gas mask threw some sort of disorienting smoke bomb and then sprayed people with automatic gunfire, witnesses were quoted as saying by local 9News.

The gunman, reported to be an adult male in early 20s, was taken into custody by the police. The suspect told the police that he had explosives in his apartment, which has now been evacuated.

FBI has rushed to the shooting scene and is investigating the incident.

Police said 14 people were killed and 50 others injured in the mass shooting. Of the 14 killed, ten died on the spot while four succumbed to their injuries in hospital.

Police said they received the call about the shooting incident about 1 am local time at the Century 16 Movie Theatre.