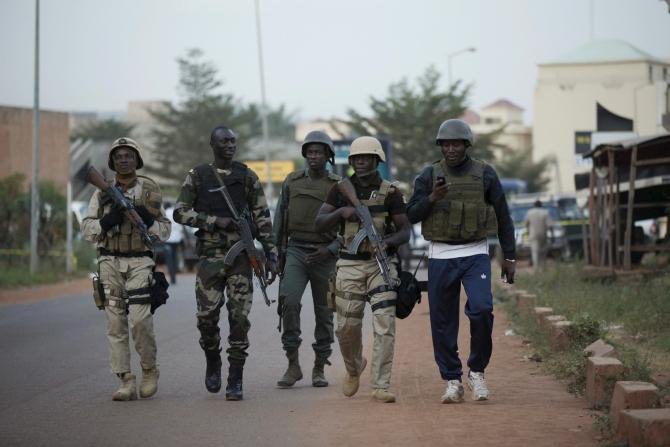 Gunmen launched an attack on the European Union military mission's headquarters in the Malian capital, Bamako, the apparent latest in a string of attacks on Western interests in the region.
Armed forces killed at least one man, who lay outside the hotel in jeans and a shirt, in a pool of blood next to a Kalashnikov rifle. His backpack lay beside him. It was not immediately known how many people had launched the assault on Sunday.
Sgt Baba Dembele from the anti-terrorism unit in Bamako told a reporter at the scene that it was believed some attackers had entered the Hotel Nord-Sud, where the mission is headquartered.
The EU mission later released a statement on Twitter saying no personnel had been wounded during the violence, and that forces were securing the area.
EU soldiers, the Malian army, national police and other security forces stood outside the hotel.
The assault comes about four months after jihadis attacked the Radisson Blu hotel in Mali's capital, killing 20 people. Al-Qaida in the Islamic Maghreb and al-Mourabitoun claimed responsibility for the attack, saying it was their first joint attack since al-Mourabitoun joined al-Qaida's North Africa branch in 2015.
In January, other extremists from the same militant groups attacked a cafe near a hotel popular with foreigners in Burkina Faso's capital, killing at least 30 people. And just last week al-Qaida in the Islamic Maghreb claimed responsibility for an assault on a beach in Ivory Coast that left at least 19 dead, identifying the three attackers as members of al-Mourabitoun and Sahara units.
This week marks the fourth anniversary of the coup that unleashed widespread chaos in Mali. After the overthrow of the democratically elected president, extremists in the northern half of Mali took over the major towns and began implementing their strict interpretation of Islamic law. The amputations and public whippings only ended when a French-led military mission forced them from power in 2013.
Over the past year, the jihadis have mounted a growing wave of violent attacks against UN peacekeepers who are trying to help stabilise the country.
Image for representation only.