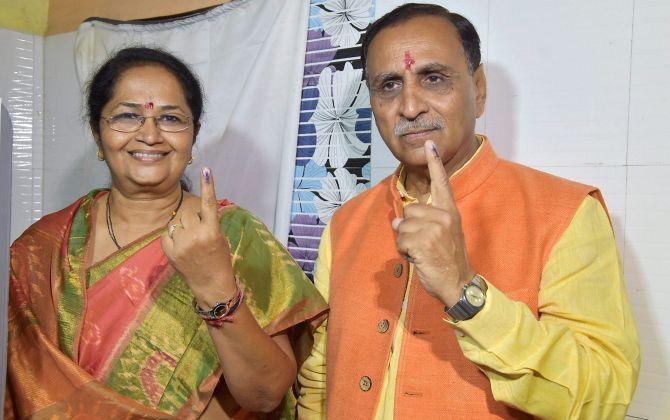 IMAGE: Gujarat Chief Minister Vijay Rupani with his wife Anjali Rupani shows their ink-marked fingers after casting their vote during the first phase of Gujarat state assembly election in Rajkot on Saturday. Photograph: PTI Photo
About 68 per cent polling was recorded in the first phase of Gujarat polls, Senior Deputy Election Commissioner Unmesh Sinha said on Saturday.
As many as 89 of the total of 182 assembly constituencies went to polls in the first phase with prominent candidates like Chief Minister Vijay Rupani (Rajkot West), Congress' Shaktisinh Gohil (Mandvi) and Paresh Dhanani (Amreli) in the fray.
Voting in the first phase began with reports of multiple faulty electronic voting machines at various booths, prompting Congress leaders to request quick action from the poll body.
Earlier in the day, the poll panel received several complaints about the EVM malfunctioning in Kosamba region of Valsad district. An EVM was also tampered with in Rajkot East constituency, a complaint to the EC said.
A malfunctioning EVM was replaced in Sardar Patel Vidyalaya booth in Surat's Varaccha.
Later in the day, senior Congress leader Arjun Modhwadia complained of possible EVM tampering at three polling booths in a Muslim-dominated area of Porbandar, a seat he is contesting.
Some EVMs were found to be connecting with external devices such as mobile phones through bluetooth, he had claimed.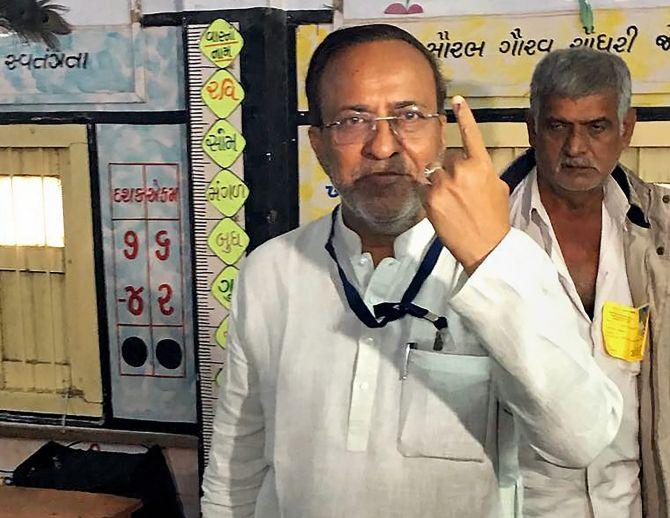 IMAGE: Gujarat Congress leader Arjun Modhwadiya shows his inked finger after casting vote in a polling booth in Porbandar on Saturday. Photograph: PTI Photo
The EC said that an inquiry found that Modhwadi's apprehension was baseless. The device which the complainant's mobile phone detected after putting on bluetooth was not an EVM but a mobile phone, carried by a polling agent, the commission said.
Chief Electoral Officer (CEO) B B Swain told reporters on Saturday evening that as per the report of an inquiry it ordered, the mobile phone of the complainant was detecting -- when its bluetooth was activated -- another device identified as 'ECO 105'.
"ECO 105 was feared to be the EVM at the polling booth, giving rise to the fear of possible tampering through bluetooth technology," Swain said.
The collector and observer were sent to the booths from where complaints were received, and the complainant was also called.
An inquiry was conducted in front of local media, and the report submitted by the District Election Officer (DEO) is that a polling agent was carrying a mobile phone of Intex company, bearing model number ECO 105, he said.
"A polling agent named Manoj Singrakhiya was carrying the mobile phone. He was in the close vicinity of the phone of the complainant....The complainant might have thought that 'EC' in ECO stands for Election Commission," Swain said.
Modhwadia had said that complainants found that EVMs at three polling booths in Memanwada, a Muslim-dominated area, connected with external devices through bluetooth.
This meant EVMs can be tampered with through bluetooth, he had said. "The chips fitted in EVMs appear to be programmable using bluetooth, and this raises the possibility of tampering. The voting system should be immune to such connectivity to external devices," he had said.
The ruling Bharatiya Janata Party had dismissed Modhwadia's complaint saying it showed the Congress was looking for an excuse.
"The Congress is searching for an excuse even before the results are out, as it stares at a loss in the elections," said BJP spokesperson Sambit Patra.
Taking a dig at the Congress, Union minister Jitendra Singh said, "The Congress party has made it a practice to say EVM malfunctioned every time when they face defeat. Therefore, they are preparing ground before Dec 18 to blame their defeat on EVM."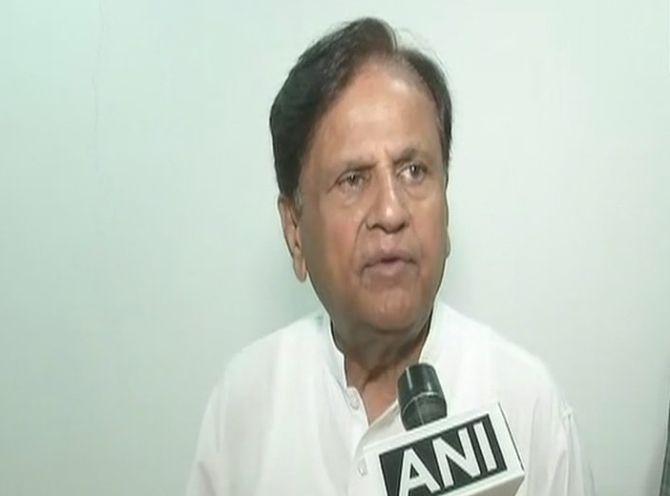 IMAGE: Congress MP Ahmed Patel speaks to media after casting his vote in Bharuch's Ankleshwar on Saturday. Photograph: ANI
Meanwhile, talking to the reporters after casting his vote in Bharuch's Ankleshwar, Congress MP Ahmed Patel said, "Wherever there are complaints of EVM malfunctioning, it should be dealt with immediately."
He slammed the ruling Bharatiya Janata Party saying, "People from all social groups have gathered to vote because in three years, the BJP government has not done anything at the Centre, nor have they done anything in Gujarat in the last 22 years."
"They did not fulfil any of the promises made in their manifestos of previous elections," Patel added.
The election is being viewed as a prestige battle for Prime Minister Narendra Modi and a litmus test for the leadership of soon-to-be Congress chief Rahul Gandhi.
The second phase of polling in 93 seats will be held on December 14 while the counting of votes is scheduled on December 18.

With ANI inputs.