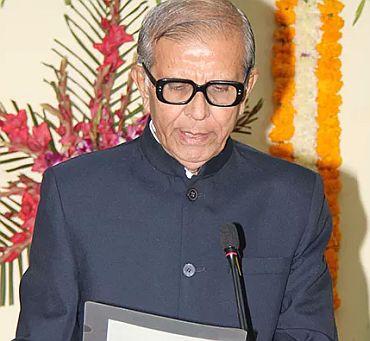 Retired Gujarat High Court Judge D P Buch was Wednesday sworn-in as the state's fourth Lokayukta by Governor Kamla Beniwal. The post that had been lying vacant for a decade.
Justice Buch was sworn in as the anti-corruption ombudsman at a function in Raj Bhavan in presence of Gujarat Chief Minister Narendra Modi and Assembly Speaker Vaju Vala.
The post had been lying vacant since the last incumbent, Justice R M Soni's term expired in December 2003.
The Narendra Modi government, which had been at loggerheads with the governor since 2011 over the appointment of Lokayukta, on November 27 recommended Justice Buch's name for the post.
The appointment came at a time when Modi was facing flak from Congress over the post lying vacant for 10 years.
The opposition party had said that the Bharatiya Janata Party's prime ministerial candidate had been repeatedly raising the issue of corruption under the Congress-led United Progressive Alliance government, but failed to appoint a Lokayukta in his own state.
The issue had triggered a major controversy when the governor appointed Justice (retd) R A Mehta as Lokayukta on August 25, 2011, without consulting the state government.
This led to a long-drawn legal battle that reached the Supreme Court, which subsequently upheld the governor's decision.
Another twist came when Justice Mehta declined to take charge of the office in August this year, citing the long legal battle over his appointment and "the government not accepting his objectivity and credibility."
Leader of Opposition Shankarsinh Vaghela, however, could not attend the function as he received the invitation just a day before the event.
"Since the invitation of December 11, was received on December 10 afternoon, Vaghela has expressed his regret for not being present for the oath taking ceremony and has sent his congratulations and best wishes to Justice Buch," a statement from Vaghela's office said.
"It is expected that we are informed of such programme at least three days in advance, so that such programme of the government of Gujarat can be given priority," Vaghela said.
The statement also said that neither Raj Bhavan nor general administration department of the state government granted permission to any other Congress leader to be present at the function, due to which no representative from Congress legislature party could attend the ceremony as Vaghela had prior engagements in Delhi.
Image: Justice D P Buch