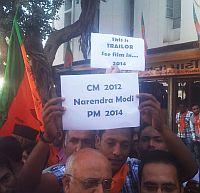 The Bharatiya Janata Party headquarters in Khanpur, Ahmedabad, is buzzing with party workers and news reporters.
People are glued to giant television sets which have been put up by a news channel in front of the BJP headquarters
As we enter the building we are greeted by party workers who are already in celebration mood and are distributing dry fruits.
A loud cheer takes place in the room as a news channel flashed that Narendra Modi is leading in Maninagar constituency.
Are you confident the BJP will win, we asked Manoj who works as a driver for the BJP candidate from Bharuch. "One 100 percent. Narendra Modi is the lion of Gujarat and is going to make a kill," he says optimistically.
Saduram Mishra, 77, who cycled all his way from Harpalpur district in Madhya Pradesh jumps in joy when he comes to know that Keshubhai Patel's Gujarat Parivartan Party has not won any seats.
"You see not only as the chief minister of Gujarat but people all over India want Modi to be the prime minister of India. For the first time in the history of India people are willing to choose their leader," says Mishra.
Suddenly there is a loud cheer from the adjacent room as television channels flash the BJP was way ahead of Congress.
BJP vice-president Purshottam Rupala arrives at the party headquarters, and addressing the media he says, "The initial results are in favour of the BJP, I am sure of our victory. Though we expect a lot more seats, still there is an hour to go before the final results are declared."
He further added that development and peace in Gujarat in the last 10 years have favoured the BJP. "People have voted for us because they believe in us. They believe that we have worked really hard and are happy with the developments. We will surely continue with the good work."