Amit Mishra troubled England's batsmen in the warm-up game against Haryana and should have been picked instead of Piyush Chawla for the fourth Test at Nagpur, says Manu Shankar.
After England thrashed India by seven wickets in the third Test in Kolkata, the selectors were forced to make some hard-hitting changes to the side.
Zaheer Khan, Yuvraj Singh and Harbhajan Singh were all dropped and in came Ravindra Jadeja, Piyush Chawla and Parvinder Awana.
- Zaheer's axe expected; Yuvi, Bhajji made scapegoats: Gavaskar
Zaheer and Yurvaj's exits were on the expected lines. The senior pacer has become more of a liability in the team, unable to provide the breakthroughs upfront or even later on with the old ball.
Yuvraj made a promising comeback, scoring a 74 in the Ahmedabad Test, but, since then had scores of 0 & 8 (Mumbai) and 32 &11 (Kolkata).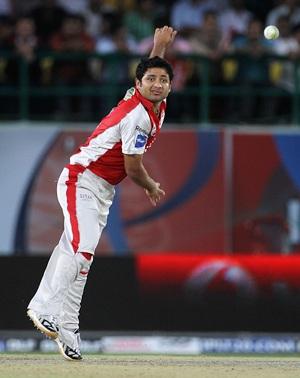 But two of the three selections that were rung in for the fourth Test in Nagpur were quite baffling, to say the least.
Parvinder Awana was rewarded for some good performances in the domestic circuit, where he has claimed 21 wickets from five matches @ 24.00, his best figures being 5 for 71. But, with Umesh Yadav nursing a sore back, and Ashok Dinda already in the side will he be included in the playing eleven? Instead, the selectors should have looked at someone with good pace and bounce that will trouble the English.
The choice of Ravindra Jadeja is one that can go both ways. Hitting three triple tons in one season is no mean achievement. To top it, he can roll his arm over, if need be. But picking him ahead of players like Rohit Sharma or Manoj Tiwary, or S Badrinath, is questionable, to say the least.
Guess the Saurashtra all-rounder won the call-up, courtesy the whopping 793 runs he has scored from just five Ranji Tropy matches @ 132.16 and 20 wickets in the kitty.
But the strangest of all the three inclusions has to be that of Piyush Chawla. He has done little of note to be selected. One can understand the selectors' idea of having a leg spinner for variation, but it needs to be back-up by performance.
Chawla has claimed just nine wickets in four Ranji matches @ 48.33, Punjab's Rahul Sharma has five from four matches @ 70.60, while fellow leg-spinner Amit Mishra is having a better season, having claimed 15 wickets from five matches @23.00.
Not just that, in England's warm-up game against Haryana, Mishra troubled the visitors. The only time Chawla has had success against the English was during the Twenty20 World Cup. Certainly, India will not play three spinners in Nagpur, considering they did the same in Mumbai and paid a heavy price for it.
With Ashwin doubling up as a batsman, dropping him was really difficult.
The selectors should have also affected changes at the top. With Ajinkya Rahane and Murali Vijay waiting in the wings, it wouldn't have been wrong to drop Gautam Gambhir, who, apart from the 65 in the second innings of the Mumbai Test, has done little of note in this series.
They, however, have to be given due credit for not relieving MS Dhoni of captaincy in the middle of series, though, at some point, they will need to sit down with him and discuss his role in the team.