Dalit leaders ask community members to give up disposing dead cattle to 'send a strong message' to the Gujarat government.
Thousands of Dalits took out a rally in Ahmedabad on Sunday where community leaders asked them to give up disposing dead cattle to 'send a strong message' to the Bharatiya Janata Party-led Gujarat government ahead of the 2017 assembly polls and demanded firm steps to curb the atrocities on them.
The Dalit leaders also announced a plan to organise a foot march from Ahmedabad to Una town in Gir-Somnath District, where four Dalits were brutally thrashed by cow vigilantes for skinning a dead cow. They said the march will be organised from August 5 as a mark of protest against the July 11 incident which caused an outrage.
As part of their continuing protests over the assault on their community members, thousands of Dailts attended a mass gathering organised in Sabarmati area.
Speaking at the gathering, Dalit leader and convener of the event Jignesh Mevani put forward a slew of demands before the state government and asked his community to take a pledge to stay away from their traditional work of disposing the dead cattle.
"To give a strong message to the government, I urge all Dalits to discontinue the work of disposing dead animals. I also want you to take a pledge of discontinuing the work of cleaning sewer lines. We no longer wish to do this work and want the government to allot agriculture land to us, so that we can live a respectable life," he said.
"If atrocities on Dalits do not stop, we will show our strength in the 2017 assembly polls," Mevani asserted.
Putting forward a series of demands, he asked the government to come to the table for talks, just like it did with the Patel quota leaders.
"We want everyone who thrashed Dalits in Una to be arrested under Prevention of Anti Social Activity Act. If they come out on bail, the government must extern them from five districts," he said.
"We also want government to make all safai kamdars (sanitation workers) permanent in their posts and pay them as per the 6th Pay Commission," the Dalit leader said.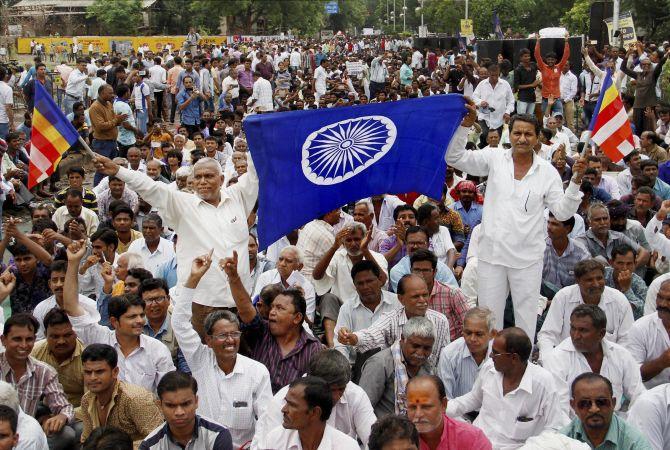 Other demands voiced by the community leaders included withdrawal of cases filed against Dalits during recent protests, speedy probe in the 2012 Thangadh police firing (in which three Dalits were killed), allotment of five acres of land for community members who want to discontinue their traditional work and martial arts training to SC members for self-defence.
"This agitation will continue till the government accepts our demands. If the government can sit with Patels and accept their demands, it should do the same with Dalits and call them for a meeting," Mevani said.
Former Indian Police Service officer Rahul Sharma, who took on the Narendra Modi-led Gujarat government during the post-Godhra riots, also addressed the gathering. A suggestion by Sharma to hold a foot march was accepted by Dalit leaders.
"This fight is against a particular ideology, which believes in creating rifts between different communities and religions. To bring this movement ahead, I suggest to hold a foot march from here in coming days and reach Una on August 15. We will celebrate our independence by hoisting flag in Una on August 15," Sharma said.
The suggestion was quickly accepted by the audience as well as leaders, who announced a 'padyatra' from Sarangpura area in Ahmedabad from August 5 that will culminate in Una on August 15 after covering a distance of almost 380 km.
Among others, several Muslim leaders of Jamiat-E-Ulema also attended the rally to express solidarity with Dalits.
"This incident (in Una) has brought together Dalits and Muslims. We both have to fight a new war for our rights and independence. Some elements are tormenting us in the name of gau-raksha (cow protection). Jamiat is with the Dalits and our leaders and supporters will join you in the foot march to Una," said general secretary of Jamiat's Gujarat wing, Abdul Quiyum Haque.
Also read
Those who attended the gathering included relatives of Una Dalit victims as well as family members of three youths who allegedly died in the police firing in Thangadh, Surendrangar district four years back.
Valjibhai Rathod, whose son was among those killed in the police firing on a Dalit mob in Thangadh, announced his plan to launch an indefinite fast in Gandhinagar from Monday to seek a Central Bureau of Investigation probe into the episode.
"Even after four years, there is no progress in the probe which is being handled by CID (Crime Investigation Department)-Crime. In the past, I had demanded a CBI inquiry, but the state government refused to accept it. To raise this demand once again, I will sit on an indefinite hunger strike in Gandhinagar from tomorrow (Monday)," Rathod said.
Meanwhile, one of the 20 Dalit youths who attempted suicide during the ongoing agitation in Una, died on Sunday.
IMAGE: Dalit community people attend a Mahasammelan in Ahmedabad on Sunday in the wake of the recent Una incident. Photograph: PTI Photo