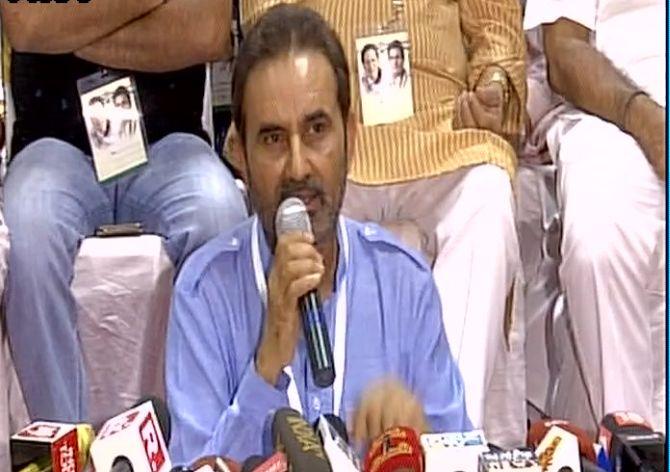 The Congress today paraded all its legislators from Gujarat, who have been lodged in a resort near Bengaluru, before the media, in an effort to quell speculation of dissension in the party ranks.
Congress spokesperson Shaktisinhn Gohil claimed the Bharatiya Janata Party tried to 'buy' 22 of its MLAs by offering Rs 15 crore for cross-voting during the elections to Rajya Sabha from Gujarat, to be held on August 8.
"Our legislators have not come here to enjoy. We brought them here to save democracy as they were being poached by BJP, using money and muscle power," Gohil told reporters at the resort, as 44 Gujarat MLAs sat behind him.
Of the initial strength of 57 in Gujarat, six MLAs resigned from the party in the last two days. Three of them joined the BJP on July 28.
Seven other MLAs are not part of the group in the resort near Bengaluru but Gohil hoped they would listen to their 'inner voice' and not vote against the Congress.
The seven MLAs should not forget that they were elected on a Congress ticket, he added.
"We have 44 legislators here, and we are also in touch with seven legislators, who are not here with us, and a few others from other parties including NCP are also voting for us. All in all, we have 60 legislators voting for our candidate," he said.
Gohil rejected the charges of the BJP that the Congress legislators were enjoying their stay at the Egleton Golf Resort, neglecting their duties back home at a time when North Gujarat is reeling under floods.
All Congress legislators had visited their constituencies in North Gujarat on July 25 to be among the affected people on party leader Ahmed Patel's urging, the spokesperson said.
He also alleged the BJP was using the Central Bureau of Investigation to target Congress leaders.
Earlier, Gohil had said the legislators put up in the resort were living like a family and there was no disharmony or bickering within the party.
"I am here since last night with my colleagues. We are living like a family. You (BJP) are talking about internal problem? Just see how we respect each other. There is no internal problem or bickering between us," he had said.
Gohil was reacting to Gujarat Chief Minister Vijay Rupani's charges of internal problems in Congress triggered by the quitting of its leaders, including Shankarsinh Vaghela and Balwantsinh Rajput.
"They have taken their MLAs to Bangaluru as they do not have faith in their MLAs," Rupani had said.
The Congress has re-nominated Patel, political secretary to party chief Sonia Gandhi, to the Upper House of Parliament from Gujarat.
The desertions have cast a shadow on the fate of Patel in the coming Rajya Sabha polls.
The BJP has fielded party president Amit Shah, Union minister Smriti Irani and former Congress MLA Balwantsinh Rajput who joined the saffron party on Thursday.
Of the total of 11 Rajya Sabha members from the state, the term of three -- Smriti Irani and Dilipbhai Pandya (both BJP) and Ahmed Patel -- will end on August 18.
IMAGE: Congress MLA Shaktisinhn Gohil addresses the media in Bengaluru on Sunday. Photograph: ANI