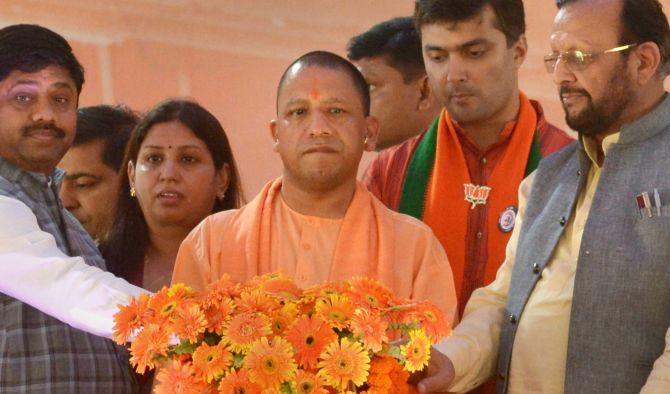 Facing severe flak over delay in action against his party MLA accused in the Unnao rape case, Uttar Pradesh Chief Minister Yogi Adityanath on Friday said his government has not deviated from its zero-tolerance policy on crime and will firmly deal with criminals, no matter how influential they might be.
Adityanath's remarks came amidst criticism by political parties and public outcry for the legislator's arrest.
The Allahabad high court also directed the Central Bureau of Investigation on Friday to arrest MLA Kuldeep Singh Sengar, accused in the case of an alleged gang rape of a minor girl over a year ago.
"As soon as the matter came to the notice of the government on April 9, we immediately constituted an SIT (Special Investigation Team) and initiated action in the matter... The policemen and doctors found guilty in the SIT report were suspended," the CM told reporters in Chitrakoot.
"We have referred the matter to the CBI... Our government will not compromise on the zero-tolerance policy it has followed against crime and corruption since the beginning. We will firmly deal with criminals, however influential they might be," Adityanath said.
Senior state minister and spokesperson of the UP government Siddharth Nath Singh said the law will take its own course and lashed out at the Opposition for 'shedding crocodile tears' on the issue of safety of women.
The process of recommending a CBI inquiry was promptly completed, the central probe agency has already taken over the case and has detained the accused MLA for questioning, he pointed out.
On the opposition parties accusing the UP government for "delaying the MLA's arrest", Singh referred to the former chief minister Akhilesh Yadav having 'shielded rape accused minister' Gayatri Prajapati.
He also referred to Samajwadi Party patron Mulayam Singh Yadav's remarks that 'should a rape accused be punished with hanging? Boys are boys, they make mistakes'.
Singh also said, "Those who are raising a hue and cry, are shedding crocodile tears for women... Those who held a candlelight march last night should remember that the 'tandoor case' had taken place during their government and what all were done by their men."
He was referring to Congress president Rahul Gandhi taking part in a candlelight vigil in New Delhi last night to protest the growing incidents of violence against women.
The famous 'tandoor case' involved former Youth Congress leader Sushil Sharma, who was given a life term in the sensational murder case of his wife, Naina Sahni, in which the body of the victim was disposed of by putting it in the tandoor of a restaurant in the national capital in 1995.
Photograph: PTI Photo