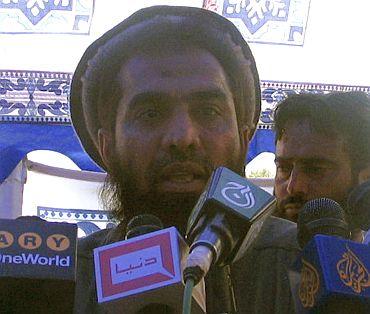 Mumbai terror attacks mastermind Zakiur Rehman Lakhvi is living in relative luxury inside a jail cell, despite the Pakistan government's claim of being tough on criminals and terrorists.
Lakhvi, the main mastermind behind the 26/11 terror attacks in Mumbai, is living in relative luxury in Rawalpindi's Adiala Jail.
Charged with planning and executing the 2008 Mumbai attacks, in which over 160 people died, Lakhvi and six others have several rooms at their disposal, right next to the jailer's office, the report said.
"They have the jailer's permission to have a television, mobile phones and access to Internet, as well as dozens of visitors a day," the BBC report said, citing jail officials.
Lakhvi can "receive any number of guests, any time of day or night, seven days a we­ek", a jail official said. His visitors are not required to identify themselves to jail authorities, can meet him in his private quarters witho­ut the watch of jail guards and can stay as long as they like, the report added.
"This would be unthinkable anywhere else, but elements in the Pakistani establishment are known to have provided such facilities to certain jailed militant commanders who they believe they may need in future for reasons of national security," the BBC report said.
Lakhvi, believed to be a close relative of Lashkar founder and Jamat-Ud Dawa chief Hafiz Saeed, was arrested in December 2008 and was indicted along with the six others on November 25, 2009 in connection with the 26/11 attacks case.