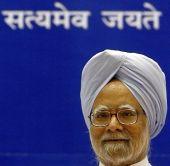 With outside ally Samjawadi Party breathing fire in the last few days, Prime Minister Manmohan Singh on Thursday acknowledged the possibility of its withdrawal of support to United Progressive Alliance but ruled out any threat to his government or early elections.
Vowing not to allow coalition compulsions to derail the reforms, he said government is confident of pushing ahead with the reforms that matter and that are going to yield results in the next few months.
Singh also appeared not to rule himself out of the race for prime ministership after the next Lok Sabha elections.
"Well, obviously coalitions face issues. Sometimes, they give the impression that these arrangements are not very stable arrangements and I cannot deny that such possibilities don't exist", the prime minister said.
"But I am confident that our government will complete full five years, that the next election to the Lok Sabha will be held on schedule (in 2014)," Singh told reporters accompanying him on his return from a four-day visit to Durban in South Africa", he added.
Singh was replying to a question whether after the exit of Dravida Munnetra Kazhagam from UPA, Samajwadi Party, whose support is crucial, would withdraw backing this year to make the government "much more vulnerable" today.
DMK, which has 18 MPs in the Lok Sabha, pulled out of UPA and withdrew its support to the government on the Sri Lankan Tamils issue and Samajwadi Party has been attacking Congress and the government in the last few days.
Samjawadi Party with 22 MPs and BSP with 21 are providing crucial outside support to the government and bailing it out in times of crisis.
Replying to a question whether the government has the wherewithal to sustain reforms, the prime minister said reforms were not a not a once-for-all set-up that the government was seeking by way of reforms.
"Reforms certainly have to take into account the fact that we don't have the majority to get Parliament to approve some of our reform proposals. So, we are certainly dependent on the goodwill of our allies and I would be the last one to deny that there are uncertainties.
"But even then, we are confident the reforms that matter, and which are going to yield results in the next few months, we will be able to push them", Singh added.
Asked whether he and the Congress leadership have lost the ability to retain allies with "ally after ally" leaving UPA, Singh shot back "I don't share that view.
"Alliances do have compulsions which have to be taken into account. We will not allow these compulsions to derail the reforms process or to create a situation where the essential task of governing this vast country of ours can be put aside."
Asked whether he would accept another term in office if Congress president Sonia Gandhi offers him prime ministership again after 2014, Singh said "these are all hypothetical questions. We will cross that bridge when we reach there".
Queried whether he would continue to contribute to public life and whether he has the drive and energy to do that after crossing the age of 80, Singh replied, "I have tried my very best to serve this country with all sincerity and dedication. Whether I have succeeded or not, it is for the public at large, the people of India to decide to judge."
To a question if Trinamool Congress chief Mamata Banerjee would support the government on issues like the Teesta water-sharing agreement with Bangladesh in the wake of her party's backing on the Lankan issue, he expressed the hope that all right-thinking parties and individuals would support the foreign policy initiatives of the government.
Asked about the current account defict problem, Singh said it does worry him. "It is our expectation that we will be able to finance, though in the medium term we must seek to bring the CAD to a more acceptable level, which I believe in our country would be about three per cent of GDP."