Amid controversy over a BBC documentary on Prime Minister Narendra Modi, India on Thursday dismissed it as a 'propaganda piece', saying it is designed to push a particular 'discredited narrative' and that the continuing colonial mindset is 'blatantly visible' in the series.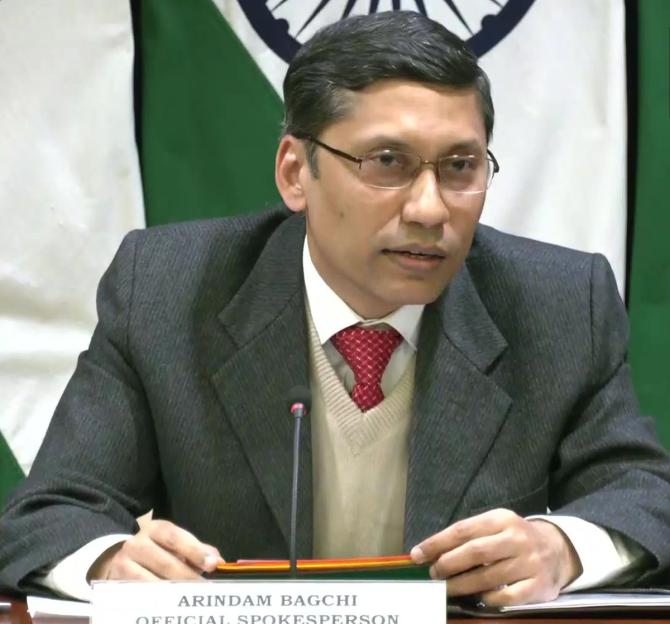 External Affairs Ministry Spokesperson Arindam Bagchi also wondered about the purpose of the documentary and the "agenda" behind it and said 'frankly we do not wish to dignify such efforts'.
The two-part BBC documentary 'India: The Modi Question' claims it investigated certain aspects relating to the 2002 Gujarat riots when Modi was the chief minister of the state.
"Let me just make it very clear that we think this is a propaganda piece designed to push a particular discredited narrative. The bias, the lack of objectivity, and frankly a continuing colonial mindset, are blatantly visible," he said.
Bagchi was replying to questions on the documentary.
"If anything, this film or documentary is a reflection on the agency and individuals that are peddling this narrative again. It makes us wonder about the purpose of this exercise and the agenda behind it and frankly we do not wish to dignify such efforts," he said.
Asked about comments made by former British Foreign Secretary Jack Straw on the riots, Bagchi said he seemed to be referring to some internal report of the UK government.
"How do I have access to that?. It is a 20-year-old report. Why would I just jump on it now? Just because Jack Straw says it, how do they lend it that much legitimacy," he asked.
"I heard words like inquiry and investigation. There is a reason why we used the word colonial mindset. We do not use words loosely. What enquiry? They were diplomats here... investigation, are they ruling the country. I do not agree with that characterisation."
The external affairs ministry spokesperson also noted that the documentary has not been screened in India.
"Do note that this has not been screened in India. So I am only going to comment in the context of what I have heard about it and what my colleagues have seen," he said in his initial remarks.
To a question on claims of deaths of UK citizens, Bagchi said if there were deaths in India, legal procedure of the country has to be followed.
Whether they took up in 2002, I do not have an idea, he said there have been a lot of legal processes against deaths that have happened during that time.