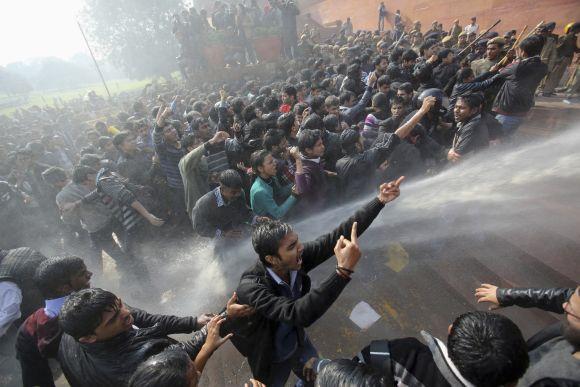 Upset over BBC broadcasting the controversial interview of Delhi gang-rape convict, the government has served a legal notice on the British media giant even as it asked video sharing website YouTube to remove the documentary as it is "very sensitive".
In the notice, the government told the BBC that it has "violated" the agreement of not using the documentary for commercial purpose and for this the British media giant was liable for legal action.
"No necessary approval was taken by the BBC for the commercial use of the documentary. We have served the notice and waiting for their response. Further course of action is awaited," a home ministry official said.
The notice was served on Wednesday evening, before the telecast of the film by the BBC in UK at 10 pm (GMT). It was served by director general of Tihar jail Alok Kumar Verma through government standing counsel.
Officials claimed that filmmaker Leslee Udwin had agreed to the condition that the documentary would not be used for commercial purposes. However, she sold the rights of the film to BBC allegedly allowing it for using commercial purpose.
Earlier in the day, the government said necessary action will be taken as the BBC ignored its advice and broadcast the controversial interview of the Delhi gang-rape convict. It had also asked video sharing website YouTube to remove the documentary as it is "very sensitive".
Home Minister Rajnath Singh also spoke to Communication and IT Minister Ravi Shankar Prasad asking him to ensure that the video is removed from all social media sites.
BBC aired the documentary, containing the controversial interview of a convict in the December 16, 2012 gang rape despite a Delhi court prohibiting it.
"Yes we had informed all channels that the documentary must not be released. But BBC has broadcast it in London. (Now) whatever action we have to take, the home ministry will go ahead and do that," the home minister told reporters earlier in the day when referred to the airing of the programme last night.
"..We had requested BBC not to telecast the documentary but BBC said that it's an independent organisation and will go ahead with the telecast," he added.
Asked what the government could do, Singh said, "I would not like to make any comment at this moment. All I can say is that whatever is required, will be done. If conditions have been violated, if they have been violated, there will be appropriate action."
To another query, the minister said, "You keep watching, I have talked to the I&B ministry and have also written to the external affairs ministry. Proceedings are taking place."
Meanwhile, Communications and IT Ministry told Youtube that the issue is "very sensitive" and it should review its position on the matter, and remove it from the website.
When contacted, a YouTube spokesperson said, "While we believe that access to information is the foundation of a free society and that services like YouTube help people express themselves and share different points of view, we continue to remove content that is illegal or violates our community guidelines, once notified." It, however, did not confirm whether it has received anotification from the government, which is required to remove the content from its site. Meanwhile, the telecast evoked mixed response from political parties.

Image: Demonstrators shout slogans as police use water cannons to disperse them at Raisina Hills during a protest rally in New Delhi. Photograph: Reuters