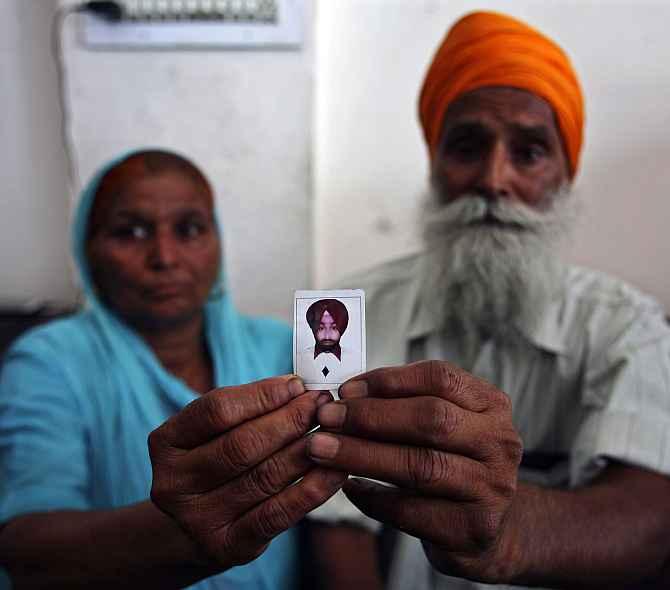 The families of the 39 Indians abducted in Iraq in 2014, on Wednesday accused the government of keeping them in the dark for three years, alleging that the Centre did not have any concrete information about their missing kin.
The families said their hopes of getting any clue about the men who went missing in Iraq's Mosul city were almost shattered after listening to the statement of External Affairs Minister Sushma Swaraj in Parliament on Wednesday.
"The government has kept us in the dark for the last three years. After hearing the statement of the external affairs minister today, we have concluded that the government does not have any concrete information about the missing Indians in Iraq. They have completely failed to trace our family members," said Sarwan, a relative of one of the missing men.
"Today, the minister is saying that she does not have concrete evidence to conclude that the 39 Indians abducted from Mosul have been killed. It reflects the government's failure in locating our people," he further said.
Amritsar-based Sarwan's 30-year-old brother Nishan is among those who went missing in the war-torn country.
Davinder, another family member of one of the missing Indians, said the government had all along misled them with "mere" statements about the abducted men.
"Till now, we have been misled by the government. The government has failed to provide us any proof about our men who went missing in Iraq," said Davinder.
"First they gave us a glimmer of hope that our men were in a church. Then on July 16, we were told they could be in jail. Thereafter, the media revealed that the jail had remained unoccupied for weeks," he further said.
If Swaraj says that she "will not commit the sin" of declaring the missing Indians dead without any proof, then the government should provide proof that the men are still alive, he said.
The government must act fast and trace them, said Davinder, whose elder brother Gobinder is missing.
Gobinder was a resident of Murar village in Kapurthala.
Davinder demanded the government provide financial assistance to the families of the missing men, to run their homes.
"I also want that the 18-year-old son of my missing brother should be given some job so that he can take care of the family," Davinder demanded.
Swaraj on Wednesday said no concrete evidence has emerged to conclude that the 39 Indians, abducted in Iraq three years back, have been killed.
In a statement in the Lok Sabha, she asserted that she "will not commit the sin" of declaring them dead without any proof and rejected the allegations that she misled the country on the issue.
Earlier, Iraqi Foreign Minister Ibrahim al-Jaafari had said that he had no "substantial evidence" on whether the missing men were killed or were alive.
Among the 39 Indians who are missing, 22 were from different places in Punjab, including Amritsar, Gurdaspur, Hoshiarpur, Kapurthala, and Jalandhar.
Image: The parents of a construction worker stranded in Iraq show their son's photo. Photograph: Munish Sharma/Reuters